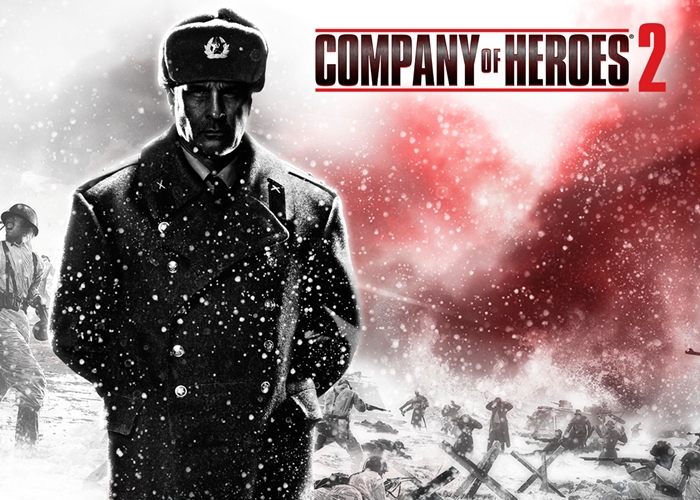 La compañía canadiense Relic Entertainment ha anunciado recientemente que el título Company of Heroes 2 contará con una nueva modalidad de juego denominada "Theater of War", donde los jugadores tendrán acceso a misiones en solitario y en cooperativo que ampliarán la trama principal del juego, colocándonos en enfrentamientos en los años cuarenta. Este modo acompañará al título de estrategia durante su lanzamiento, a finales de junio, y se irá ampliando en los próximos meses con nuevas misiones.
Según el comunicado de la empresa:
Theater of War permite a Relic Entertainment mostrar diferentes nuevas aristas del conflicto en forma de nuevos contenidos jugables tanto para un usuario como cooperativos", declaran. "El modo incluye desafíos en solitario en los que los jugadores se enfrentan a una apabullante selección de probabilidades, la IA de las batallas contra un oficial enemigo irán acompañadas de un estilo de juego único y escenarios cooperativos para que los fans disfruten con sus amigos.
En la galería inferior podéis disfrutar de las nuevas imágenes del título.
    <style type='text/css'>
        #gallery-2 {
            margin: auto;
        }
        #gallery-2 .gallery-item {
            float: left;
            margin-top: 10px;
            text-align: center;
            width: 16%;
        }
        #gallery-2 img {
            border: 2px solid #cfcfcf;
        }
        #gallery-2 .gallery-caption {
            margin-left: 0;
        }
        /* see gallery_shortcode() in wp-includes/media.php */
    </style>
    <div data-carousel-extra='{"blog_id":27,"permalink":"https:\/\/xombitgames.com\/2013\/04\/nuevo-modo-de-juego-nuevas-imagenes-de-company-of-heroes-2","likes_blog_id":40960699}' id='gallery-2' class='gallery galleryid-34066 gallery-columns-6 gallery-size-large'><dl class='gallery-item'>
        <dt class='gallery-icon landscape'>
            <img width="700" height="393" src="https://xombitgames.com/files/2013/04/Company-of-Heroes-2-1-700x393.jpg" class="attachment-large size-large" alt="Captura de Company of Heroes 2 (1)" srcset="https://xombitgames.com/files/2013/04/Company-of-Heroes-2-1-700x393.jpg 700w, https://xombitgames.com/files/2013/04/Company-of-Heroes-2-1-400x225.jpg 400w, https://xombitgames.com/files/2013/04/Company-of-Heroes-2-1-220x123.jpg 220w" sizes="(max-width: 700px) 100vw, 700px" data-attachment-id="34079" data-orig-file="https://xombitgames.com/files/2013/04/Company-of-Heroes-2-1.jpg" data-orig-size="1920,1080" data-comments-opened="1" data-image-meta="{&quot;aperture&quot;:&quot;0&quot;,&quot;credit&quot;:&quot;&quot;,&quot;camera&quot;:&quot;&quot;,&quot;caption&quot;:&quot;&quot;,&quot;created_timestamp&quot;:&quot;0&quot;,&quot;copyright&quot;:&quot;&quot;,&quot;focal_length&quot;:&quot;0&quot;,&quot;iso&quot;:&quot;0&quot;,&quot;shutter_speed&quot;:&quot;0&quot;,&quot;title&quot;:&quot;&quot;}" data-image-title="Company of Heroes 2 (1)" data-image-description="" data-medium-file="https://xombitgames.com/files/2013/04/Company-of-Heroes-2-1-400x225.jpg" data-large-file="https://xombitgames.com/files/2013/04/Company-of-Heroes-2-1-700x393.jpg" />
        </dt></dl><dl class='gallery-item'>
        <dt class='gallery-icon landscape'>
            <img width="700" height="393" src="https://xombitgames.com/files/2013/04/Company-of-Heroes-2-2-700x393.jpg" class="attachment-large size-large" alt="Captura de Company of Heroes 2 (14)" srcset="https://xombitgames.com/files/2013/04/Company-of-Heroes-2-2-700x393.jpg 700w, https://xombitgames.com/files/2013/04/Company-of-Heroes-2-2-400x225.jpg 400w, https://xombitgames.com/files/2013/04/Company-of-Heroes-2-2-220x123.jpg 220w" sizes="(max-width: 700px) 100vw, 700px" data-attachment-id="34080" data-orig-file="https://xombitgames.com/files/2013/04/Company-of-Heroes-2-2.jpg" data-orig-size="1920,1080" data-comments-opened="1" data-image-meta="{&quot;aperture&quot;:&quot;0&quot;,&quot;credit&quot;:&quot;&quot;,&quot;camera&quot;:&quot;&quot;,&quot;caption&quot;:&quot;&quot;,&quot;created_timestamp&quot;:&quot;0&quot;,&quot;copyright&quot;:&quot;&quot;,&quot;focal_length&quot;:&quot;0&quot;,&quot;iso&quot;:&quot;0&quot;,&quot;shutter_speed&quot;:&quot;0&quot;,&quot;title&quot;:&quot;&quot;}" data-image-title="Company of Heroes 2 (2)" data-image-description="" data-medium-file="https://xombitgames.com/files/2013/04/Company-of-Heroes-2-2-400x225.jpg" data-large-file="https://xombitgames.com/files/2013/04/Company-of-Heroes-2-2-700x393.jpg" />
        </dt></dl><dl class='gallery-item'>
        <dt class='gallery-icon landscape'>
            <img width="700" height="393" src="https://xombitgames.com/files/2013/04/Company-of-Heroes-2-3-700x393.jpg" class="attachment-large size-large" alt="Captura de Company of Heroes 2 (13)" srcset="https://xombitgames.com/files/2013/04/Company-of-Heroes-2-3-700x393.jpg 700w, https://xombitgames.com/files/2013/04/Company-of-Heroes-2-3-400x225.jpg 400w, https://xombitgames.com/files/2013/04/Company-of-Heroes-2-3-220x123.jpg 220w" sizes="(max-width: 700px) 100vw, 700px" data-attachment-id="34081" data-orig-file="https://xombitgames.com/files/2013/04/Company-of-Heroes-2-3.jpg" data-orig-size="1920,1080" data-comments-opened="1" data-image-meta="{&quot;aperture&quot;:&quot;0&quot;,&quot;credit&quot;:&quot;&quot;,&quot;camera&quot;:&quot;&quot;,&quot;caption&quot;:&quot;&quot;,&quot;created_timestamp&quot;:&quot;0&quot;,&quot;copyright&quot;:&quot;&quot;,&quot;focal_length&quot;:&quot;0&quot;,&quot;iso&quot;:&quot;0&quot;,&quot;shutter_speed&quot;:&quot;0&quot;,&quot;title&quot;:&quot;&quot;}" data-image-title="Company of Heroes 2 (3)" data-image-description="" data-medium-file="https://xombitgames.com/files/2013/04/Company-of-Heroes-2-3-400x225.jpg" data-large-file="https://xombitgames.com/files/2013/04/Company-of-Heroes-2-3-700x393.jpg" />
        </dt></dl><dl class='gallery-item'>
        <dt class='gallery-icon landscape'>
            <img width="700" height="393" src="https://xombitgames.com/files/2013/04/Company-of-Heroes-2-4-700x393.jpg" class="attachment-large size-large" alt="Captura de Company of Heroes 2 (12)" srcset="https://xombitgames.com/files/2013/04/Company-of-Heroes-2-4-700x393.jpg 700w, https://xombitgames.com/files/2013/04/Company-of-Heroes-2-4-400x225.jpg 400w, https://xombitgames.com/files/2013/04/Company-of-Heroes-2-4-220x123.jpg 220w" sizes="(max-width: 700px) 100vw, 700px" data-attachment-id="34082" data-orig-file="https://xombitgames.com/files/2013/04/Company-of-Heroes-2-4.jpg" data-orig-size="1920,1080" data-comments-opened="1" data-image-meta="{&quot;aperture&quot;:&quot;0&quot;,&quot;credit&quot;:&quot;&quot;,&quot;camera&quot;:&quot;&quot;,&quot;caption&quot;:&quot;&quot;,&quot;created_timestamp&quot;:&quot;0&quot;,&quot;copyright&quot;:&quot;&quot;,&quot;focal_length&quot;:&quot;0&quot;,&quot;iso&quot;:&quot;0&quot;,&quot;shutter_speed&quot;:&quot;0&quot;,&quot;title&quot;:&quot;&quot;}" data-image-title="Company of Heroes 2 (4)" data-image-description="" data-medium-file="https://xombitgames.com/files/2013/04/Company-of-Heroes-2-4-400x225.jpg" data-large-file="https://xombitgames.com/files/2013/04/Company-of-Heroes-2-4-700x393.jpg" />
        </dt></dl><dl class='gallery-item'>
        <dt class='gallery-icon landscape'>
            <img width="700" height="393" src="https://xombitgames.com/files/2013/04/Company-of-Heroes-2-5-700x393.jpg" class="attachment-large size-large" alt="Captura de Company of Heroes 2 (11)" srcset="https://xombitgames.com/files/2013/04/Company-of-Heroes-2-5-700x393.jpg 700w, https://xombitgames.com/files/2013/04/Company-of-Heroes-2-5-400x225.jpg 400w, https://xombitgames.com/files/2013/04/Company-of-Heroes-2-5-220x123.jpg 220w" sizes="(max-width: 700px) 100vw, 700px" data-attachment-id="34083" data-orig-file="https://xombitgames.com/files/2013/04/Company-of-Heroes-2-5.jpg" data-orig-size="1920,1080" data-comments-opened="1" data-image-meta="{&quot;aperture&quot;:&quot;0&quot;,&quot;credit&quot;:&quot;&quot;,&quot;camera&quot;:&quot;&quot;,&quot;caption&quot;:&quot;&quot;,&quot;created_timestamp&quot;:&quot;0&quot;,&quot;copyright&quot;:&quot;&quot;,&quot;focal_length&quot;:&quot;0&quot;,&quot;iso&quot;:&quot;0&quot;,&quot;shutter_speed&quot;:&quot;0&quot;,&quot;title&quot;:&quot;&quot;}" data-image-title="Company of Heroes 2 (5)" data-image-description="" data-medium-file="https://xombitgames.com/files/2013/04/Company-of-Heroes-2-5-400x225.jpg" data-large-file="https://xombitgames.com/files/2013/04/Company-of-Heroes-2-5-700x393.jpg" />
        </dt></dl><dl class='gallery-item'>
        <dt class='gallery-icon landscape'>
            <img width="700" height="393" src="https://xombitgames.com/files/2013/04/Company-of-Heroes-2-6-700x393.jpg" class="attachment-large size-large" alt="Captura de Company of Heroes 2 (10)" srcset="https://xombitgames.com/files/2013/04/Company-of-Heroes-2-6-700x393.jpg 700w, https://xombitgames.com/files/2013/04/Company-of-Heroes-2-6-400x225.jpg 400w, https://xombitgames.com/files/2013/04/Company-of-Heroes-2-6-220x123.jpg 220w" sizes="(max-width: 700px) 100vw, 700px" data-attachment-id="34084" data-orig-file="https://xombitgames.com/files/2013/04/Company-of-Heroes-2-6.jpg" data-orig-size="1920,1080" data-comments-opened="1" data-image-meta="{&quot;aperture&quot;:&quot;0&quot;,&quot;credit&quot;:&quot;&quot;,&quot;camera&quot;:&quot;&quot;,&quot;caption&quot;:&quot;&quot;,&quot;created_timestamp&quot;:&quot;0&quot;,&quot;copyright&quot;:&quot;&quot;,&quot;focal_length&quot;:&quot;0&quot;,&quot;iso&quot;:&quot;0&quot;,&quot;shutter_speed&quot;:&quot;0&quot;,&quot;title&quot;:&quot;&quot;}" data-image-title="Company of Heroes 2 (6)" data-image-description="" data-medium-file="https://xombitgames.com/files/2013/04/Company-of-Heroes-2-6-400x225.jpg" data-large-file="https://xombitgames.com/files/2013/04/Company-of-Heroes-2-6-700x393.jpg" />
        </dt></dl><br style="clear: both" /><dl class='gallery-item'>
        <dt class='gallery-icon landscape'>
            <img width="700" height="393" src="https://xombitgames.com/files/2013/04/Company-of-Heroes-2-7-700x393.jpg" class="attachment-large size-large" alt="Captura de Company of Heroes 2 (9)" srcset="https://xombitgames.com/files/2013/04/Company-of-Heroes-2-7-700x393.jpg 700w, https://xombitgames.com/files/2013/04/Company-of-Heroes-2-7-400x225.jpg 400w, https://xombitgames.com/files/2013/04/Company-of-Heroes-2-7-220x123.jpg 220w" sizes="(max-width: 700px) 100vw, 700px" data-attachment-id="34085" data-orig-file="https://xombitgames.com/files/2013/04/Company-of-Heroes-2-7.jpg" data-orig-size="1920,1080" data-comments-opened="1" data-image-meta="{&quot;aperture&quot;:&quot;0&quot;,&quot;credit&quot;:&quot;&quot;,&quot;camera&quot;:&quot;&quot;,&quot;caption&quot;:&quot;&quot;,&quot;created_timestamp&quot;:&quot;0&quot;,&quot;copyright&quot;:&quot;&quot;,&quot;focal_length&quot;:&quot;0&quot;,&quot;iso&quot;:&quot;0&quot;,&quot;shutter_speed&quot;:&quot;0&quot;,&quot;title&quot;:&quot;&quot;}" data-image-title="Company of Heroes 2 (7)" data-image-description="" data-medium-file="https://xombitgames.com/files/2013/04/Company-of-Heroes-2-7-400x225.jpg" data-large-file="https://xombitgames.com/files/2013/04/Company-of-Heroes-2-7-700x393.jpg" />
        </dt></dl><dl class='gallery-item'>
        <dt class='gallery-icon landscape'>
            <img width="700" height="393" src="https://xombitgames.com/files/2013/04/Company-of-Heroes-2-8-700x393.jpg" class="attachment-large size-large" alt="Captura de Company of Heroes 2 (8)" srcset="https://xombitgames.com/files/2013/04/Company-of-Heroes-2-8-700x393.jpg 700w, https://xombitgames.com/files/2013/04/Company-of-Heroes-2-8-400x225.jpg 400w, https://xombitgames.com/files/2013/04/Company-of-Heroes-2-8-220x123.jpg 220w" sizes="(max-width: 700px) 100vw, 700px" data-attachment-id="34086" data-orig-file="https://xombitgames.com/files/2013/04/Company-of-Heroes-2-8.jpg" data-orig-size="1920,1080" data-comments-opened="1" data-image-meta="{&quot;aperture&quot;:&quot;0&quot;,&quot;credit&quot;:&quot;&quot;,&quot;camera&quot;:&quot;&quot;,&quot;caption&quot;:&quot;&quot;,&quot;created_timestamp&quot;:&quot;0&quot;,&quot;copyright&quot;:&quot;&quot;,&quot;focal_length&quot;:&quot;0&quot;,&quot;iso&quot;:&quot;0&quot;,&quot;shutter_speed&quot;:&quot;0&quot;,&quot;title&quot;:&quot;&quot;}" data-image-title="Company of Heroes 2 (8)" data-image-description="" data-medium-file="https://xombitgames.com/files/2013/04/Company-of-Heroes-2-8-400x225.jpg" data-large-file="https://xombitgames.com/files/2013/04/Company-of-Heroes-2-8-700x393.jpg" />
        </dt></dl><dl class='gallery-item'>
        <dt class='gallery-icon landscape'>
            <img width="700" height="393" src="https://xombitgames.com/files/2013/04/Company-of-Heroes-2-9-700x393.jpg" class="attachment-large size-large" alt="Captura de Company of Heroes 2 (7)" srcset="https://xombitgames.com/files/2013/04/Company-of-Heroes-2-9-700x393.jpg 700w, https://xombitgames.com/files/2013/04/Company-of-Heroes-2-9-400x225.jpg 400w, https://xombitgames.com/files/2013/04/Company-of-Heroes-2-9-220x123.jpg 220w" sizes="(max-width: 700px) 100vw, 700px" data-attachment-id="34087" data-orig-file="https://xombitgames.com/files/2013/04/Company-of-Heroes-2-9.jpg" data-orig-size="1920,1080" data-comments-opened="1" data-image-meta="{&quot;aperture&quot;:&quot;0&quot;,&quot;credit&quot;:&quot;&quot;,&quot;camera&quot;:&quot;&quot;,&quot;caption&quot;:&quot;&quot;,&quot;created_timestamp&quot;:&quot;0&quot;,&quot;copyright&quot;:&quot;&quot;,&quot;focal_length&quot;:&quot;0&quot;,&quot;iso&quot;:&quot;0&quot;,&quot;shutter_speed&quot;:&quot;0&quot;,&quot;title&quot;:&quot;&quot;}" data-image-title="Company of Heroes 2 (9)" data-image-description="" data-medium-file="https://xombitgames.com/files/2013/04/Company-of-Heroes-2-9-400x225.jpg" data-large-file="https://xombitgames.com/files/2013/04/Company-of-Heroes-2-9-700x393.jpg" />
        </dt></dl><dl class='gallery-item'>
        <dt class='gallery-icon landscape'>
            <img width="700" height="393" src="https://xombitgames.com/files/2013/04/Company-of-Heroes-2-10-700x393.jpg" class="attachment-large size-large" alt="Captura de Company of Heroes 2 (6)" srcset="https://xombitgames.com/files/2013/04/Company-of-Heroes-2-10-700x393.jpg 700w, https://xombitgames.com/files/2013/04/Company-of-Heroes-2-10-400x225.jpg 400w, https://xombitgames.com/files/2013/04/Company-of-Heroes-2-10-220x123.jpg 220w" sizes="(max-width: 700px) 100vw, 700px" data-attachment-id="34088" data-orig-file="https://xombitgames.com/files/2013/04/Company-of-Heroes-2-10.jpg" data-orig-size="1920,1080" data-comments-opened="1" data-image-meta="{&quot;aperture&quot;:&quot;0&quot;,&quot;credit&quot;:&quot;&quot;,&quot;camera&quot;:&quot;&quot;,&quot;caption&quot;:&quot;&quot;,&quot;created_timestamp&quot;:&quot;0&quot;,&quot;copyright&quot;:&quot;&quot;,&quot;focal_length&quot;:&quot;0&quot;,&quot;iso&quot;:&quot;0&quot;,&quot;shutter_speed&quot;:&quot;0&quot;,&quot;title&quot;:&quot;&quot;}" data-image-title="Company of Heroes 2 (10)" data-image-description="" data-medium-file="https://xombitgames.com/files/2013/04/Company-of-Heroes-2-10-400x225.jpg" data-large-file="https://xombitgames.com/files/2013/04/Company-of-Heroes-2-10-700x393.jpg" />
        </dt></dl><dl class='gallery-item'>
        <dt class='gallery-icon landscape'>
            <img width="700" height="393" src="https://xombitgames.com/files/2013/04/Company-of-Heroes-2-11-700x393.jpg" class="attachment-large size-large" alt="Captura de Company of Heroes 2 (5)" srcset="https://xombitgames.com/files/2013/04/Company-of-Heroes-2-11-700x393.jpg 700w, https://xombitgames.com/files/2013/04/Company-of-Heroes-2-11-400x225.jpg 400w, https://xombitgames.com/files/2013/04/Company-of-Heroes-2-11-220x123.jpg 220w" sizes="(max-width: 700px) 100vw, 700px" data-attachment-id="34089" data-orig-file="https://xombitgames.com/files/2013/04/Company-of-Heroes-2-11.jpg" data-orig-size="1920,1080" data-comments-opened="1" data-image-meta="{&quot;aperture&quot;:&quot;0&quot;,&quot;credit&quot;:&quot;&quot;,&quot;camera&quot;:&quot;&quot;,&quot;caption&quot;:&quot;&quot;,&quot;created_timestamp&quot;:&quot;0&quot;,&quot;copyright&quot;:&quot;&quot;,&quot;focal_length&quot;:&quot;0&quot;,&quot;iso&quot;:&quot;0&quot;,&quot;shutter_speed&quot;:&quot;0&quot;,&quot;title&quot;:&quot;&quot;}" data-image-title="Company of Heroes 2 (11)" data-image-description="" data-medium-file="https://xombitgames.com/files/2013/04/Company-of-Heroes-2-11-400x225.jpg" data-large-file="https://xombitgames.com/files/2013/04/Company-of-Heroes-2-11-700x393.jpg" />
        </dt></dl><dl class='gallery-item'>
        <dt class='gallery-icon landscape'>
            <img width="700" height="393" src="https://xombitgames.com/files/2013/04/Company-of-Heroes-2-12-700x393.jpg" class="attachment-large size-large" alt="Captura de Company of Heroes 2 (4)" srcset="https://xombitgames.com/files/2013/04/Company-of-Heroes-2-12-700x393.jpg 700w, https://xombitgames.com/files/2013/04/Company-of-Heroes-2-12-400x225.jpg 400w, https://xombitgames.com/files/2013/04/Company-of-Heroes-2-12-220x123.jpg 220w" sizes="(max-width: 700px) 100vw, 700px" data-attachment-id="34090" data-orig-file="https://xombitgames.com/files/2013/04/Company-of-Heroes-2-12.jpg" data-orig-size="1920,1080" data-comments-opened="1" data-image-meta="{&quot;aperture&quot;:&quot;0&quot;,&quot;credit&quot;:&quot;&quot;,&quot;camera&quot;:&quot;&quot;,&quot;caption&quot;:&quot;&quot;,&quot;created_timestamp&quot;:&quot;0&quot;,&quot;copyright&quot;:&quot;&quot;,&quot;focal_length&quot;:&quot;0&quot;,&quot;iso&quot;:&quot;0&quot;,&quot;shutter_speed&quot;:&quot;0&quot;,&quot;title&quot;:&quot;&quot;}" data-image-title="Company of Heroes 2 (12)" data-image-description="" data-medium-file="https://xombitgames.com/files/2013/04/Company-of-Heroes-2-12-400x225.jpg" data-large-file="https://xombitgames.com/files/2013/04/Company-of-Heroes-2-12-700x393.jpg" />
        </dt></dl><br style="clear: both" /><dl class='gallery-item'>
        <dt class='gallery-icon landscape'>
            <img width="700" height="393" src="https://xombitgames.com/files/2013/04/Company-of-Heroes-2-13-700x393.jpg" class="attachment-large size-large" alt="Captura de Company of Heroes 2 (3)" srcset="https://xombitgames.com/files/2013/04/Company-of-Heroes-2-13-700x393.jpg 700w, https://xombitgames.com/files/2013/04/Company-of-Heroes-2-13-400x225.jpg 400w, https://xombitgames.com/files/2013/04/Company-of-Heroes-2-13-220x123.jpg 220w" sizes="(max-width: 700px) 100vw, 700px" data-attachment-id="34091" data-orig-file="https://xombitgames.com/files/2013/04/Company-of-Heroes-2-13.jpg" data-orig-size="1920,1080" data-comments-opened="1" data-image-meta="{&quot;aperture&quot;:&quot;0&quot;,&quot;credit&quot;:&quot;&quot;,&quot;camera&quot;:&quot;&quot;,&quot;caption&quot;:&quot;&quot;,&quot;created_timestamp&quot;:&quot;0&quot;,&quot;copyright&quot;:&quot;&quot;,&quot;focal_length&quot;:&quot;0&quot;,&quot;iso&quot;:&quot;0&quot;,&quot;shutter_speed&quot;:&quot;0&quot;,&quot;title&quot;:&quot;&quot;}" data-image-title="Company of Heroes 2 (13)" data-image-description="" data-medium-file="https://xombitgames.com/files/2013/04/Company-of-Heroes-2-13-400x225.jpg" data-large-file="https://xombitgames.com/files/2013/04/Company-of-Heroes-2-13-700x393.jpg" />
        </dt></dl><dl class='gallery-item'>
        <dt class='gallery-icon landscape'>
            <img width="700" height="393" src="https://xombitgames.com/files/2013/04/Company-of-Heroes-2-14-700x393.jpg" class="attachment-large size-large" alt="Captura de Company of Heroes 2 (2)" srcset="https://xombitgames.com/files/2013/04/Company-of-Heroes-2-14-700x393.jpg 700w, https://xombitgames.com/files/2013/04/Company-of-Heroes-2-14-400x225.jpg 400w, https://xombitgames.com/files/2013/04/Company-of-Heroes-2-14-220x123.jpg 220w" sizes="(max-width: 700px) 100vw, 700px" data-attachment-id="34092" data-orig-file="https://xombitgames.com/files/2013/04/Company-of-Heroes-2-14.jpg" data-orig-size="1920,1080" data-comments-opened="1" data-image-meta="{&quot;aperture&quot;:&quot;0&quot;,&quot;credit&quot;:&quot;&quot;,&quot;camera&quot;:&quot;&quot;,&quot;caption&quot;:&quot;&quot;,&quot;created_timestamp&quot;:&quot;0&quot;,&quot;copyright&quot;:&quot;&quot;,&quot;focal_length&quot;:&quot;0&quot;,&quot;iso&quot;:&quot;0&quot;,&quot;shutter_speed&quot;:&quot;0&quot;,&quot;title&quot;:&quot;&quot;}" data-image-title="Company of Heroes 2 (14)" data-image-description="" data-medium-file="https://xombitgames.com/files/2013/04/Company-of-Heroes-2-14-400x225.jpg" data-large-file="https://xombitgames.com/files/2013/04/Company-of-Heroes-2-14-700x393.jpg" />
        </dt></dl><dl class='gallery-item'>
        <dt class='gallery-icon landscape'>
            <img width="700" height="393" src="https://xombitgames.com/files/2013/04/Company-of-Heroes-2-15-700x393.jpg" class="attachment-large size-large" alt="Captura de Company of Heroes 2 (15)" srcset="https://xombitgames.com/files/2013/04/Company-of-Heroes-2-15-700x393.jpg 700w, https://xombitgames.com/files/2013/04/Company-of-Heroes-2-15-400x225.jpg 400w, https://xombitgames.com/files/2013/04/Company-of-Heroes-2-15-220x123.jpg 220w" sizes="(max-width: 700px) 100vw, 700px" data-attachment-id="34093" data-orig-file="https://xombitgames.com/files/2013/04/Company-of-Heroes-2-15.jpg" data-orig-size="1920,1080" data-comments-opened="1" data-image-meta="{&quot;aperture&quot;:&quot;0&quot;,&quot;credit&quot;:&quot;&quot;,&quot;camera&quot;:&quot;&quot;,&quot;caption&quot;:&quot;&quot;,&quot;created_timestamp&quot;:&quot;0&quot;,&quot;copyright&quot;:&quot;&quot;,&quot;focal_length&quot;:&quot;0&quot;,&quot;iso&quot;:&quot;0&quot;,&quot;shutter_speed&quot;:&quot;0&quot;,&quot;title&quot;:&quot;&quot;}" data-image-title="Company of Heroes 2 (15)" data-image-description="" data-medium-file="https://xombitgames.com/files/2013/04/Company-of-Heroes-2-15-400x225.jpg" data-large-file="https://xombitgames.com/files/2013/04/Company-of-Heroes-2-15-700x393.jpg" />
        </dt></dl>
        <br style='clear: both' />
    </div>