El nuevo Medal of Honor, titulado Warfighter, tendrá cabida en el mercado a partir del 26 de octubre de este mismo año. Es una secuela directa del Medal of Honor anterior, lanzado en 2010 y será el décimocuarto juego perteneciente a la saga bélica. El desarrollo está a cargo de Danger Close, a diferencia que el anterior en el que DICE puso su grandiosa aportación. El juego utilizará el mismo motor gráfico que en Battlefield 3 y Need For Speed The Run, el Frostbite 2, motor que DICE ha ido mejorando desde su versión 1.0.

En esta ocasión, volveremos a ponernos en la piel de un soldado de la Tier 1, el cual será el encargado, junto a ootro batallón, de realizar misiones variadas alrededor de todo el globo terráqueo. La historia no sólo tendrá disparos, guerras, y momentos de tensión, sino que también estará centrada en los sentimientos de los soldados relacionados con sus familias, matrimonios, amigos fuera de la guerra, elementos que dejaron en su lugar de origen y que ahora recuerdan. Ésto afectará a los propios combatientes, su rendimiento y sus emociones dentro de la trama.
Está previsto que Electronic Games presente mañana en su conferencia del E3 2012 la adaptación a la portátil de Sony de este título bélico de renombre. Éste podría hacer que las ventas de PS Vita aumentaran considerablemente, aunque también esperamos una reducción de su precio en ambos modelos. Decimos que está previsto, porque la tienda online CDiscount lo ha listado entre los títulos próximos para Vita. Veremos mañana si es verdad.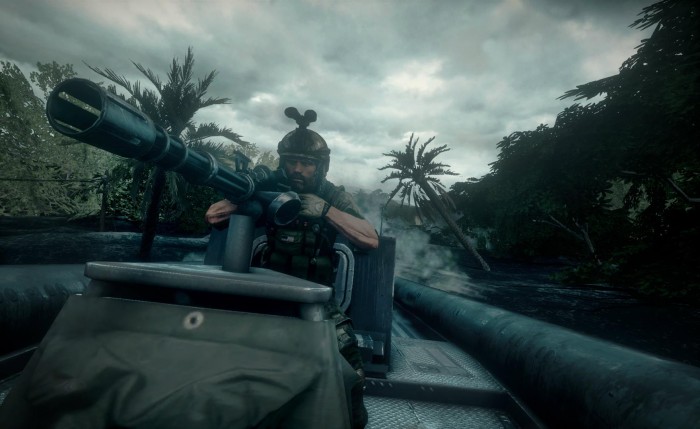 <style type='text/css'>
        #gallery-2 {
            margin: auto;
        }
        #gallery-2 .gallery-item {
            float: left;
            margin-top: 10px;
            text-align: center;
            width: 16%;
        }
        #gallery-2 img {
            border: 2px solid #cfcfcf;
        }
        #gallery-2 .gallery-caption {
            margin-left: 0;
        }
        /* see gallery_shortcode() in wp-includes/media.php */
    </style>
    <div data-carousel-extra='{"blog_id":27,"permalink":"https:\/\/xombitgames.com\/2012\/06\/e3-2012-medal-of-honor-presentacion-ps-vita","likes_blog_id":40960699}' id='gallery-2' class='gallery galleryid-12189 gallery-columns-6 gallery-size-large'><dl class='gallery-item'>
        <dt class='gallery-icon landscape'>
            <img width="700" height="393" src="https://xombitgames.com/files/2012/06/MOH-Warfighter-captura-video-700x393.jpg" class="attachment-large size-large" alt="Captura de vídeo" srcset="https://xombitgames.com/files/2012/06/MOH-Warfighter-captura-video-700x393.jpg 700w, https://xombitgames.com/files/2012/06/MOH-Warfighter-captura-video-400x225.jpg 400w, https://xombitgames.com/files/2012/06/MOH-Warfighter-captura-video-220x123.jpg 220w, https://xombitgames.com/files/2012/06/MOH-Warfighter-captura-video.jpg 1280w" sizes="(max-width: 700px) 100vw, 700px" data-attachment-id="12192" data-orig-file="https://xombitgames.com/files/2012/06/MOH-Warfighter-captura-video.jpg" data-orig-size="1280,720" data-comments-opened="1" data-image-meta="{&quot;aperture&quot;:&quot;0&quot;,&quot;credit&quot;:&quot;&quot;,&quot;camera&quot;:&quot;&quot;,&quot;caption&quot;:&quot;&quot;,&quot;created_timestamp&quot;:&quot;0&quot;,&quot;copyright&quot;:&quot;&quot;,&quot;focal_length&quot;:&quot;0&quot;,&quot;iso&quot;:&quot;0&quot;,&quot;shutter_speed&quot;:&quot;0&quot;,&quot;title&quot;:&quot;&quot;}" data-image-title="MOH Warfighter (captura vídeo)" data-image-description="" data-medium-file="https://xombitgames.com/files/2012/06/MOH-Warfighter-captura-video-400x225.jpg" data-large-file="https://xombitgames.com/files/2012/06/MOH-Warfighter-captura-video-700x393.jpg" />
        </dt></dl><dl class='gallery-item'>
        <dt class='gallery-icon landscape'>
            <img width="700" height="393" src="https://xombitgames.com/files/2012/06/MOH-Warfighter-gameplay-1-700x393.jpg" class="attachment-large size-large" alt="Gameplay 1" srcset="https://xombitgames.com/files/2012/06/MOH-Warfighter-gameplay-1-700x393.jpg 700w, https://xombitgames.com/files/2012/06/MOH-Warfighter-gameplay-1-400x224.jpg 400w, https://xombitgames.com/files/2012/06/MOH-Warfighter-gameplay-1-220x123.jpg 220w, https://xombitgames.com/files/2012/06/MOH-Warfighter-gameplay-1.jpg 1547w" sizes="(max-width: 700px) 100vw, 700px" data-attachment-id="12193" data-orig-file="https://xombitgames.com/files/2012/06/MOH-Warfighter-gameplay-1.jpg" data-orig-size="1547,869" data-comments-opened="1" data-image-meta="{&quot;aperture&quot;:&quot;0&quot;,&quot;credit&quot;:&quot;&quot;,&quot;camera&quot;:&quot;&quot;,&quot;caption&quot;:&quot;&quot;,&quot;created_timestamp&quot;:&quot;0&quot;,&quot;copyright&quot;:&quot;&quot;,&quot;focal_length&quot;:&quot;0&quot;,&quot;iso&quot;:&quot;0&quot;,&quot;shutter_speed&quot;:&quot;0&quot;,&quot;title&quot;:&quot;&quot;}" data-image-title="MOH Warfighter (gameplay 1)" data-image-description="" data-medium-file="https://xombitgames.com/files/2012/06/MOH-Warfighter-gameplay-1-400x224.jpg" data-large-file="https://xombitgames.com/files/2012/06/MOH-Warfighter-gameplay-1-700x393.jpg" />
        </dt></dl><dl class='gallery-item'>
        <dt class='gallery-icon landscape'>
            <img width="700" height="429" src="https://xombitgames.com/files/2012/06/MOH-Warfighter-gameplay-2-700x429.jpg" class="attachment-large size-large" alt="Gameplay 2" srcset="https://xombitgames.com/files/2012/06/MOH-Warfighter-gameplay-2-700x429.jpg 700w, https://xombitgames.com/files/2012/06/MOH-Warfighter-gameplay-2-400x245.jpg 400w, https://xombitgames.com/files/2012/06/MOH-Warfighter-gameplay-2-220x135.jpg 220w" sizes="(max-width: 700px) 100vw, 700px" data-attachment-id="12194" data-orig-file="https://xombitgames.com/files/2012/06/MOH-Warfighter-gameplay-2.jpg" data-orig-size="1760,1080" data-comments-opened="1" data-image-meta="{&quot;aperture&quot;:&quot;0&quot;,&quot;credit&quot;:&quot;&quot;,&quot;camera&quot;:&quot;&quot;,&quot;caption&quot;:&quot;&quot;,&quot;created_timestamp&quot;:&quot;0&quot;,&quot;copyright&quot;:&quot;&quot;,&quot;focal_length&quot;:&quot;0&quot;,&quot;iso&quot;:&quot;0&quot;,&quot;shutter_speed&quot;:&quot;0&quot;,&quot;title&quot;:&quot;&quot;}" data-image-title="MOH Warfighter (gameplay 2)" data-image-description="" data-medium-file="https://xombitgames.com/files/2012/06/MOH-Warfighter-gameplay-2-400x245.jpg" data-large-file="https://xombitgames.com/files/2012/06/MOH-Warfighter-gameplay-2-700x429.jpg" />
        </dt></dl><dl class='gallery-item'>
        <dt class='gallery-icon landscape'>
            <img width="700" height="393" src="https://xombitgames.com/files/2012/06/MOH-Warfighter-gameplay-3-700x393.jpg" class="attachment-large size-large" alt="Gameplay 3" srcset="https://xombitgames.com/files/2012/06/MOH-Warfighter-gameplay-3-700x393.jpg 700w, https://xombitgames.com/files/2012/06/MOH-Warfighter-gameplay-3-400x225.jpg 400w, https://xombitgames.com/files/2012/06/MOH-Warfighter-gameplay-3-220x123.jpg 220w" sizes="(max-width: 700px) 100vw, 700px" data-attachment-id="12195" data-orig-file="https://xombitgames.com/files/2012/06/MOH-Warfighter-gameplay-3.jpg" data-orig-size="1920,1080" data-comments-opened="1" data-image-meta="{&quot;aperture&quot;:&quot;0&quot;,&quot;credit&quot;:&quot;&quot;,&quot;camera&quot;:&quot;&quot;,&quot;caption&quot;:&quot;&quot;,&quot;created_timestamp&quot;:&quot;0&quot;,&quot;copyright&quot;:&quot;&quot;,&quot;focal_length&quot;:&quot;0&quot;,&quot;iso&quot;:&quot;0&quot;,&quot;shutter_speed&quot;:&quot;0&quot;,&quot;title&quot;:&quot;&quot;}" data-image-title="MOH Warfighter (gameplay 3)" data-image-description="" data-medium-file="https://xombitgames.com/files/2012/06/MOH-Warfighter-gameplay-3-400x225.jpg" data-large-file="https://xombitgames.com/files/2012/06/MOH-Warfighter-gameplay-3-700x393.jpg" />
        </dt></dl><dl class='gallery-item'>
        <dt class='gallery-icon landscape'>
            <img width="700" height="492" src="https://xombitgames.com/files/2012/06/MOH-Warfighter-Imagen-destacada-e1338799710664-700x492.jpg" class="attachment-large size-large" alt="Imagen destacada" srcset="https://xombitgames.com/files/2012/06/MOH-Warfighter-Imagen-destacada-e1338799710664-700x492.jpg 700w, https://xombitgames.com/files/2012/06/MOH-Warfighter-Imagen-destacada-e1338799710664-400x281.jpg 400w, https://xombitgames.com/files/2012/06/MOH-Warfighter-Imagen-destacada-e1338799710664-284x200.jpg 284w, https://xombitgames.com/files/2012/06/MOH-Warfighter-Imagen-destacada-e1338799710664-220x154.jpg 220w, https://xombitgames.com/files/2012/06/MOH-Warfighter-Imagen-destacada-e1338799710664.jpg 860w" sizes="(max-width: 700px) 100vw, 700px" data-attachment-id="12196" data-orig-file="https://xombitgames.com/files/2012/06/MOH-Warfighter-Imagen-destacada-e1338799710664.jpg" data-orig-size="860,605" data-comments-opened="1" data-image-meta="{&quot;aperture&quot;:&quot;0&quot;,&quot;credit&quot;:&quot;&quot;,&quot;camera&quot;:&quot;&quot;,&quot;caption&quot;:&quot;&quot;,&quot;created_timestamp&quot;:&quot;0&quot;,&quot;copyright&quot;:&quot;&quot;,&quot;focal_length&quot;:&quot;0&quot;,&quot;iso&quot;:&quot;0&quot;,&quot;shutter_speed&quot;:&quot;0&quot;,&quot;title&quot;:&quot;&quot;}" data-image-title="MOH Warfighter (Imagen destacada)" data-image-description="" data-medium-file="https://xombitgames.com/files/2012/06/MOH-Warfighter-Imagen-destacada-e1338799710664-400x281.jpg" data-large-file="https://xombitgames.com/files/2012/06/MOH-Warfighter-Imagen-destacada-e1338799710664-700x492.jpg" />
        </dt></dl><dl class='gallery-item'>
        <dt class='gallery-icon landscape'>
            <img width="700" height="227" src="https://xombitgames.com/files/2012/06/MOH-Warfighter-portada-700x227.jpg" class="attachment-large size-large" alt="Imagen de portada" srcset="https://xombitgames.com/files/2012/06/MOH-Warfighter-portada-700x227.jpg 700w, https://xombitgames.com/files/2012/06/MOH-Warfighter-portada-400x129.jpg 400w, https://xombitgames.com/files/2012/06/MOH-Warfighter-portada-220x71.jpg 220w" sizes="(max-width: 700px) 100vw, 700px" data-attachment-id="12197" data-orig-file="https://xombitgames.com/files/2012/06/MOH-Warfighter-portada.jpg" data-orig-size="1915,622" data-comments-opened="1" data-image-meta="{&quot;aperture&quot;:&quot;0&quot;,&quot;credit&quot;:&quot;&quot;,&quot;camera&quot;:&quot;&quot;,&quot;caption&quot;:&quot;&quot;,&quot;created_timestamp&quot;:&quot;0&quot;,&quot;copyright&quot;:&quot;&quot;,&quot;focal_length&quot;:&quot;0&quot;,&quot;iso&quot;:&quot;0&quot;,&quot;shutter_speed&quot;:&quot;0&quot;,&quot;title&quot;:&quot;&quot;}" data-image-title="MOH Warfighter (portada)" data-image-description="" data-medium-file="https://xombitgames.com/files/2012/06/MOH-Warfighter-portada-400x129.jpg" data-large-file="https://xombitgames.com/files/2012/06/MOH-Warfighter-portada-700x227.jpg" />
        </dt></dl><br style="clear: both" />
    </div>