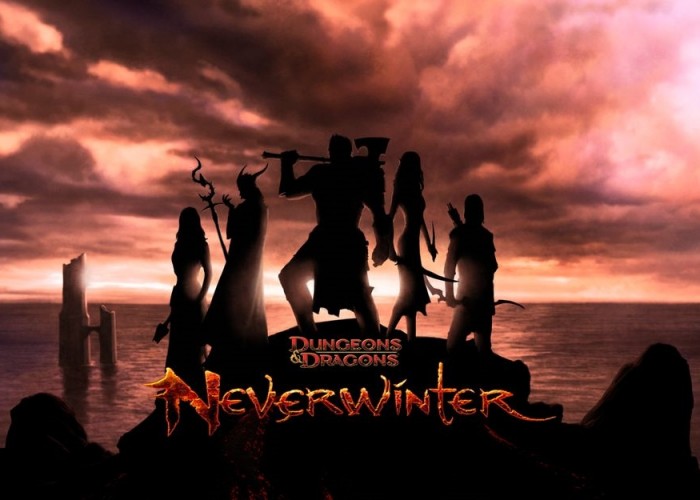 Tengo que admitir que cuando escuché que Neverwinter pasaba a ser un MMORPG, tuve algo de miedo, ya que apuntaba a ser otra franquicia de rol defenestrada para convertirse en el MMORPG clónico de turno. Pero qué sorpresa me he llevado, cuando por lo que he/hemos podido ver por ahora, el juego no tiene tan mala pinta como se esperaba e incluso apunta maneras, y aquí nuestros primeros pasos por las tierras de Neverwinter.
Primeras impresiones
Comenzamos creándonos un personaje, hay un número de razas bastante aceptable y ya conocidas por los seguidores de la franquicia, y una vez elegida con la que jugar, podemos pasar a elegir una de seis clases (las de toda la vida, salvo una bloqueada que no sabemos qué será), pasaremos a subir las estadísticas de nuestro personaje, con un guiño muy curioso, ya que haremos tiradas de dados para con suerte tener las mejores estadísticas posibles. Le crearemos un pasado, eligiendo su lugar de procedencia, de lugares conocidos por todos como la Puerta de Baldur, e incluso a qué dios reza, acabaremos con el nombre de nuestro personaje y a jugar.
Nuestros primeros pasos nos recordarán a cualquiera de los juegos anteriores de la franquicia o cualquier juego de rol en general. Comenzamos como un pobre diablo que llegaba en barco para reforzar las tropas de la ciudad, nos ataca un dragón muerto y acabamos en la costa. Nuestro viaje a Neverwinter nos servirá de tutorial para aprender lo básico, movernos, usar habilidades, pociones, equiparnos, todo a un nivel muy simple y mostrado de una forma muy práctica. Una vez terminada esta primera "mazmorra", llegaremos a la ciudad donde tenemos que ayudar en todo lo que podamos para parar el asedio de la misma a gran escala.
Un concepto que mezcla estilos
Dungeons & Dragons Neverwinter es una mezcla muy interesante de lo mejor de World of Warcraft y GuildWars 2. Por un lado tiene todo el sistema de misiones y mazmorras del WoW, con el que te implicas en cada zona al tener que recorrerla completamente si quieres hacer todas las misiones, y esas mazmorras cortas pero intensas, con muchos enemigos y temidos subjefes y jefes finales. Y por otro lado la simplicidad en habilidades y el dinamismo de los combates de GuildWars 2, en los que se ve y valora la habilidad del jugador por encima de todo.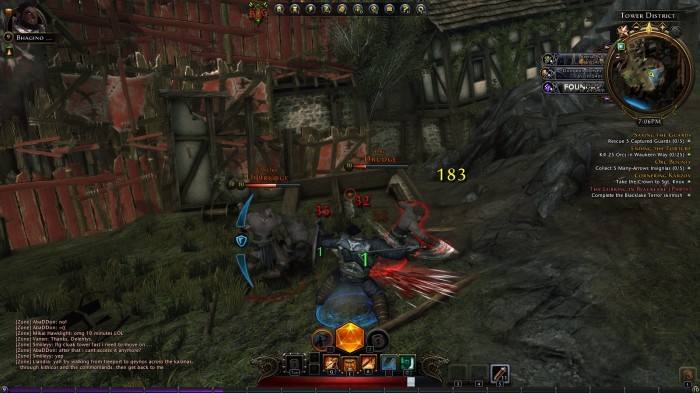 Tras pasar por el primer par de zonas iniciales, nos veremos obligados a jugar en grupo si queremos avanzar con soltura, y la verdad es que agrupar en este juego es bastante divertido y se acepta cualquier tipo de rol respecto a personajes, ya que todos se pueden curar usando pociones. La evolución básica de nuestro personaje no tiene secreto alguno, los primeros niveles no elegiremos nada, conseguiremos x habilidades al ir subiendo niveles sin opción. Pero a la larga habrá opción a ser un personaje único respecto al resto, también nos diferenciaremos con otros jugadores por el equipo, el cual tiene mucho peso en el juego y que se puede conseguir de muchas formas, comprándolo en numerosas tiendas, farmeando o haciéndolo con nuestras propias manos tras recolectar los ingredientes precisos.
Tecnología optimizada
El juego al máximo luce muy bien, un acabado muy bueno y que realmente impresiona a la vista que un mundo abierto este tan detallado y no tenga ningún tipo de ralentización gráfica. Ademas Neverwinter está muy bien optimizado, y se puede variar mucho las prestaciones del juego para que casi cualquier PC lo pueda mover sin problemas, ya que los detalles pueden subirse hasta un 300%. En esta Closed Beta he notado un poco de lag en los movimientos, pero seguramente en el producto final o incluso en la Open Beta esto ya este solucionado.
Otra cosa que me ha parecido interesante, es que salvo algo grave, como mantenimiento extremo que obligue a cerrar servidores, el juego aplica los parches mientras jugamos, es algo que encuentro muy práctico para los jugadores que echan muchas horas y que se veían forzados a parar con ese clásico "cerramos por mantenimiento en cinco minutos".
Por ahora Dungeons & Dragons Neverwinter pinta muy bien, tiene unas bases muy solidas para ser un buen juego, y el que vaya a ser free to play le hace subir muchos puestos frente a otros. Nosotros al menos vamos a tenerle un ojo puesto encima por ahora, os mantendremos informados.
Galería de imágenes
    <style type='text/css'>
        #gallery-2 {
            margin: auto;
        }
        #gallery-2 .gallery-item {
            float: left;
            margin-top: 10px;
            text-align: center;
            width: 16%;
        }
        #gallery-2 img {
            border: 2px solid #cfcfcf;
        }
        #gallery-2 .gallery-caption {
            margin-left: 0;
        }
        /* see gallery_shortcode() in wp-includes/media.php */
    </style>
    <div data-carousel-extra='{"blog_id":27,"permalink":"https:\/\/xombitgames.com\/2013\/03\/primeros-pasos-dungeos-and-dragons-neverwinter","likes_blog_id":40960699}' id='gallery-2' class='gallery galleryid-30890 gallery-columns-6 gallery-size-large'><dl class='gallery-item'>
        <dt class='gallery-icon landscape'>
            <img width="700" height="500" src="https://xombitgames.com/files/2013/03/Neverwinter-700x500.jpg" class="attachment-large size-large" alt="Portada del juego" srcset="https://xombitgames.com/files/2013/03/Neverwinter-700x500.jpg 700w, https://xombitgames.com/files/2013/03/Neverwinter-400x285.jpg 400w, https://xombitgames.com/files/2013/03/Neverwinter-220x157.jpg 220w, https://xombitgames.com/files/2013/03/Neverwinter.jpg 875w" sizes="(max-width: 700px) 100vw, 700px" data-attachment-id="30901" data-orig-file="https://xombitgames.com/files/2013/03/Neverwinter.jpg" data-orig-size="875,625" data-comments-opened="1" data-image-meta="{&quot;aperture&quot;:&quot;0&quot;,&quot;credit&quot;:&quot;&quot;,&quot;camera&quot;:&quot;&quot;,&quot;caption&quot;:&quot;&quot;,&quot;created_timestamp&quot;:&quot;0&quot;,&quot;copyright&quot;:&quot;&quot;,&quot;focal_length&quot;:&quot;0&quot;,&quot;iso&quot;:&quot;0&quot;,&quot;shutter_speed&quot;:&quot;0&quot;,&quot;title&quot;:&quot;&quot;}" data-image-title="Neverwinter" data-image-description="" data-medium-file="https://xombitgames.com/files/2013/03/Neverwinter-400x285.jpg" data-large-file="https://xombitgames.com/files/2013/03/Neverwinter-700x500.jpg" />
        </dt></dl><dl class='gallery-item'>
        <dt class='gallery-icon landscape'>
            <img width="700" height="393" src="https://xombitgames.com/files/2013/03/Neverwinter-5-700x393.jpg" class="attachment-large size-large" alt="Gameplay 5" srcset="https://xombitgames.com/files/2013/03/Neverwinter-5-700x393.jpg 700w, https://xombitgames.com/files/2013/03/Neverwinter-5-400x225.jpg 400w, https://xombitgames.com/files/2013/03/Neverwinter-5-220x123.jpg 220w, https://xombitgames.com/files/2013/03/Neverwinter-5.jpg 1600w" sizes="(max-width: 700px) 100vw, 700px" data-attachment-id="30900" data-orig-file="https://xombitgames.com/files/2013/03/Neverwinter-5.jpg" data-orig-size="1600,900" data-comments-opened="1" data-image-meta="{&quot;aperture&quot;:&quot;0&quot;,&quot;credit&quot;:&quot;&quot;,&quot;camera&quot;:&quot;&quot;,&quot;caption&quot;:&quot;&quot;,&quot;created_timestamp&quot;:&quot;0&quot;,&quot;copyright&quot;:&quot;&quot;,&quot;focal_length&quot;:&quot;0&quot;,&quot;iso&quot;:&quot;0&quot;,&quot;shutter_speed&quot;:&quot;0&quot;,&quot;title&quot;:&quot;&quot;}" data-image-title="Neverwinter (5)" data-image-description="" data-medium-file="https://xombitgames.com/files/2013/03/Neverwinter-5-400x225.jpg" data-large-file="https://xombitgames.com/files/2013/03/Neverwinter-5-700x393.jpg" />
        </dt></dl><dl class='gallery-item'>
        <dt class='gallery-icon landscape'>
            <img width="700" height="393" src="https://xombitgames.com/files/2013/03/Neverwinter-4-700x393.jpg" class="attachment-large size-large" alt="Gameplay 4" srcset="https://xombitgames.com/files/2013/03/Neverwinter-4-700x393.jpg 700w, https://xombitgames.com/files/2013/03/Neverwinter-4-400x225.jpg 400w, https://xombitgames.com/files/2013/03/Neverwinter-4-220x123.jpg 220w, https://xombitgames.com/files/2013/03/Neverwinter-4.jpg 1600w" sizes="(max-width: 700px) 100vw, 700px" data-attachment-id="30899" data-orig-file="https://xombitgames.com/files/2013/03/Neverwinter-4.jpg" data-orig-size="1600,900" data-comments-opened="1" data-image-meta="{&quot;aperture&quot;:&quot;0&quot;,&quot;credit&quot;:&quot;&quot;,&quot;camera&quot;:&quot;&quot;,&quot;caption&quot;:&quot;&quot;,&quot;created_timestamp&quot;:&quot;0&quot;,&quot;copyright&quot;:&quot;&quot;,&quot;focal_length&quot;:&quot;0&quot;,&quot;iso&quot;:&quot;0&quot;,&quot;shutter_speed&quot;:&quot;0&quot;,&quot;title&quot;:&quot;&quot;}" data-image-title="Neverwinter (4)" data-image-description="" data-medium-file="https://xombitgames.com/files/2013/03/Neverwinter-4-400x225.jpg" data-large-file="https://xombitgames.com/files/2013/03/Neverwinter-4-700x393.jpg" />
        </dt></dl><dl class='gallery-item'>
        <dt class='gallery-icon landscape'>
            <img width="700" height="393" src="https://xombitgames.com/files/2013/03/Neverwinter-3-700x393.jpg" class="attachment-large size-large" alt="Gameplay 3" srcset="https://xombitgames.com/files/2013/03/Neverwinter-3-700x393.jpg 700w, https://xombitgames.com/files/2013/03/Neverwinter-3-400x225.jpg 400w, https://xombitgames.com/files/2013/03/Neverwinter-3-220x123.jpg 220w, https://xombitgames.com/files/2013/03/Neverwinter-3.jpg 1600w" sizes="(max-width: 700px) 100vw, 700px" data-attachment-id="30898" data-orig-file="https://xombitgames.com/files/2013/03/Neverwinter-3.jpg" data-orig-size="1600,900" data-comments-opened="1" data-image-meta="{&quot;aperture&quot;:&quot;0&quot;,&quot;credit&quot;:&quot;&quot;,&quot;camera&quot;:&quot;&quot;,&quot;caption&quot;:&quot;&quot;,&quot;created_timestamp&quot;:&quot;0&quot;,&quot;copyright&quot;:&quot;&quot;,&quot;focal_length&quot;:&quot;0&quot;,&quot;iso&quot;:&quot;0&quot;,&quot;shutter_speed&quot;:&quot;0&quot;,&quot;title&quot;:&quot;&quot;}" data-image-title="Neverwinter (3)" data-image-description="" data-medium-file="https://xombitgames.com/files/2013/03/Neverwinter-3-400x225.jpg" data-large-file="https://xombitgames.com/files/2013/03/Neverwinter-3-700x393.jpg" />
        </dt></dl><dl class='gallery-item'>
        <dt class='gallery-icon landscape'>
            <img width="700" height="393" src="https://xombitgames.com/files/2013/03/Neverwinter-2-700x393.jpg" class="attachment-large size-large" alt="Gameplay 2" srcset="https://xombitgames.com/files/2013/03/Neverwinter-2-700x393.jpg 700w, https://xombitgames.com/files/2013/03/Neverwinter-2-400x225.jpg 400w, https://xombitgames.com/files/2013/03/Neverwinter-2-220x123.jpg 220w, https://xombitgames.com/files/2013/03/Neverwinter-2.jpg 1600w" sizes="(max-width: 700px) 100vw, 700px" data-attachment-id="30897" data-orig-file="https://xombitgames.com/files/2013/03/Neverwinter-2.jpg" data-orig-size="1600,900" data-comments-opened="1" data-image-meta="{&quot;aperture&quot;:&quot;0&quot;,&quot;credit&quot;:&quot;&quot;,&quot;camera&quot;:&quot;&quot;,&quot;caption&quot;:&quot;&quot;,&quot;created_timestamp&quot;:&quot;0&quot;,&quot;copyright&quot;:&quot;&quot;,&quot;focal_length&quot;:&quot;0&quot;,&quot;iso&quot;:&quot;0&quot;,&quot;shutter_speed&quot;:&quot;0&quot;,&quot;title&quot;:&quot;&quot;}" data-image-title="Neverwinter (2)" data-image-description="" data-medium-file="https://xombitgames.com/files/2013/03/Neverwinter-2-400x225.jpg" data-large-file="https://xombitgames.com/files/2013/03/Neverwinter-2-700x393.jpg" />
        </dt></dl><dl class='gallery-item'>
        <dt class='gallery-icon landscape'>
            <img width="700" height="393" src="https://xombitgames.com/files/2013/03/Neverwinter-1-700x393.jpg" class="attachment-large size-large" alt="Gameplay 1" srcset="https://xombitgames.com/files/2013/03/Neverwinter-1-700x393.jpg 700w, https://xombitgames.com/files/2013/03/Neverwinter-1-400x225.jpg 400w, https://xombitgames.com/files/2013/03/Neverwinter-1-220x123.jpg 220w, https://xombitgames.com/files/2013/03/Neverwinter-1.jpg 1600w" sizes="(max-width: 700px) 100vw, 700px" data-attachment-id="30896" data-orig-file="https://xombitgames.com/files/2013/03/Neverwinter-1.jpg" data-orig-size="1600,900" data-comments-opened="1" data-image-meta="{&quot;aperture&quot;:&quot;0&quot;,&quot;credit&quot;:&quot;&quot;,&quot;camera&quot;:&quot;&quot;,&quot;caption&quot;:&quot;&quot;,&quot;created_timestamp&quot;:&quot;0&quot;,&quot;copyright&quot;:&quot;&quot;,&quot;focal_length&quot;:&quot;0&quot;,&quot;iso&quot;:&quot;0&quot;,&quot;shutter_speed&quot;:&quot;0&quot;,&quot;title&quot;:&quot;&quot;}" data-image-title="Neverwinter (1)" data-image-description="" data-medium-file="https://xombitgames.com/files/2013/03/Neverwinter-1-400x225.jpg" data-large-file="https://xombitgames.com/files/2013/03/Neverwinter-1-700x393.jpg" />
        </dt></dl><br style="clear: both" />
    </div>