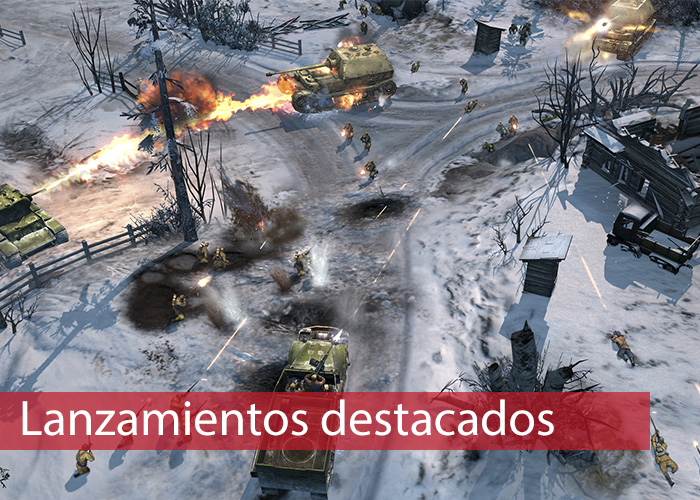 Más de una semana después de la finalización del E3 2013, en Xombit Games seguidos a lo nuestro, que es hablar de videojuegos. Y como cada domingo, os traemos un listado con los cincos títulos más destacados que saldrán al mercado en los próximos siete días. Mientras Microsoft rectifica, Nintendo pasa del tema y Sony recoge sus frutos, nosotros hablaremos de ello.
Company of Heroes 2 (PC, Mac)
Vuelve la estrategia militar más pura de los últimos años. Company of Heroes se convierte así en la secuela de la gran entrega que maravilló por el año 2006 en PC, y ahora llegará también a Mac el 25 de este mes para alegría de todos los maqueros. Como ya sabéis la mayoría este juego estará ambientado en el frente oriental, durante la Segunda Guerra Mundial. Company of Heroes 2 se anunció en 2010 y hemos tenido que esperar tres años para verlo hecho realidad.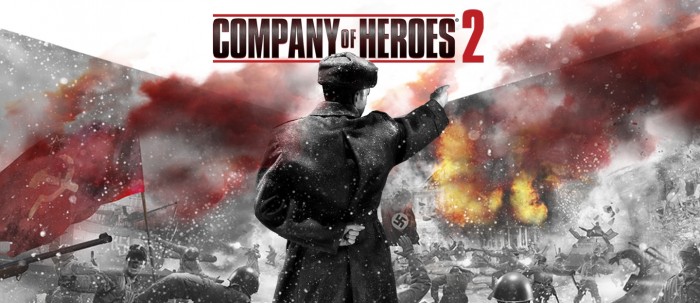 Relic se ha encargado de su desarrollo y la renqueante THQ de su distribución. Nos saldrá por unos 45 euros en ambos sistemas. La estrategia en tiempo real desarrollada con la última versión del motor gráfico 3.0, así que podemos estar tranquilos en cuanto a este apartado. En el E3 se pudieron ver demostraciones del título y se nota que es un trabajo continuista que ha servido para actualizar y depurar una fórmula ganadora como es Company of Heroes. Su multijugador es una maravilla.
Mighty Switch Force 2 (3DS)
Tenemos delante a un título de plataformas y puzles desarrollado por WayForward Techs. Será la cuarta entrega de la serie Mighty Swith aunque parezca la segunda con su numeración. El juego fue lanzado el día 13 en Norte América, aunque en Europa nos toca el turno el 27 de junio. Podremos descargarlo desde la eShop por aproximadamente 6 euros, como la anterior entrega. La ciencia ficción también tiene cabida en Nintendo 3DS.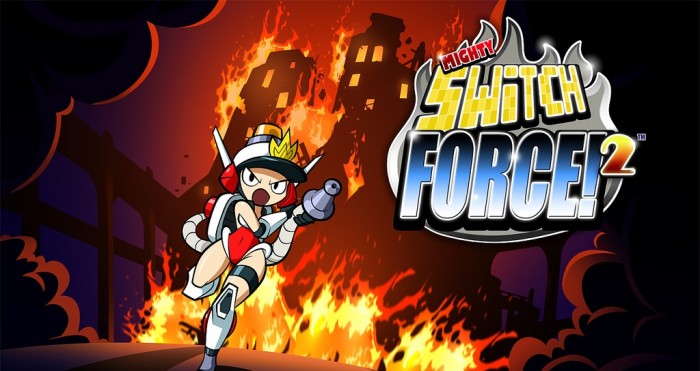 Asumiremos de nuevo el papel de Patricia Wagon, quien tiene la habilidad de cambiar varios tipos de bloques entre dos planos. Llevaremos a una luchadora que deberá rescatar a las hermanas Hooligan del fuego enemigo. Patricia irá equipada ahora por un cañón de agua y deberá resolver diversos puzles para llegar a su objetivo. No te puedes perder este plataformas en scroll lateral y dos dimensiones tan barato.
Leisure Suit Larry In the Land of the Lounge Lizards: Reloaded (PC, Mac iOS, Android, Linux, BB)
Replay Studios anunció hace pocos meses que estaban terminando el remake del primer título del famoso ligón Larry. Como sabéis los más curtidos del lugar, este juego se trata de una aventura gráfica de las de siempre, las de point and click pero con muchos toques picantes y algo verdes. El 28 de junio llegará trasladado a la alta definición actual a dispositivos móviles también para agradecer el apoyo mostrado a los creadores de esta saga tan longeva.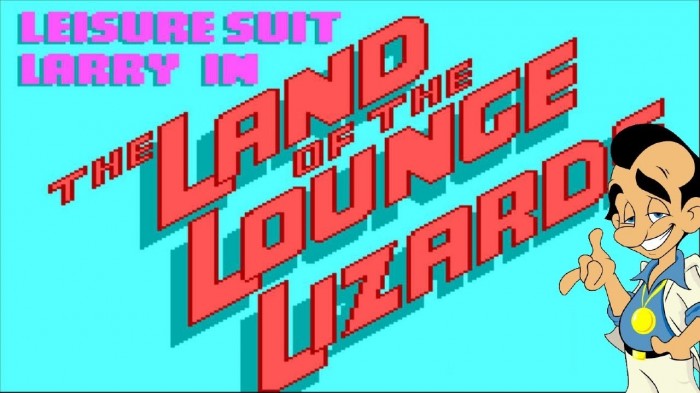 Además, no todo será como antaño, ya que la compañía anunció que muchos de los puzles a resolver habían sido modificados para crear una nueva experiencia de juego. Los usuarios de Ouya también podrás disfrutar de esta primera parte, ya que aterrizará también en Android. De la banda sonora se ha ocupado Autin Wintory, el compositor de Journey, así podemos disfrutar del gran trabajo que siempre le dedica a sus obras. Y su precio estará entre los 5 euros en sistemas móviles y los 20 euros en PC, Mac y Linux.
Masacre (PS3, Xbox 360, Wii U, PC)
Como su nombre indica, viviremos una masacre en este juego de Moon Studios distribuido por Activision. Aunque su nombre no se refiere, estrictamente, a lo que veremos en el título, sino al nombre de un personaje de Marvel Comics. Tenemos ante nosotros un shooter en primera persona con un gran sentido del humor del protagonista que sufre bipolaridad mental y conoceremos las impresiones que enfrentan a los dos 'yos' que tiene en su cabeza. El 28 de junio lo tendremos entre nosotros.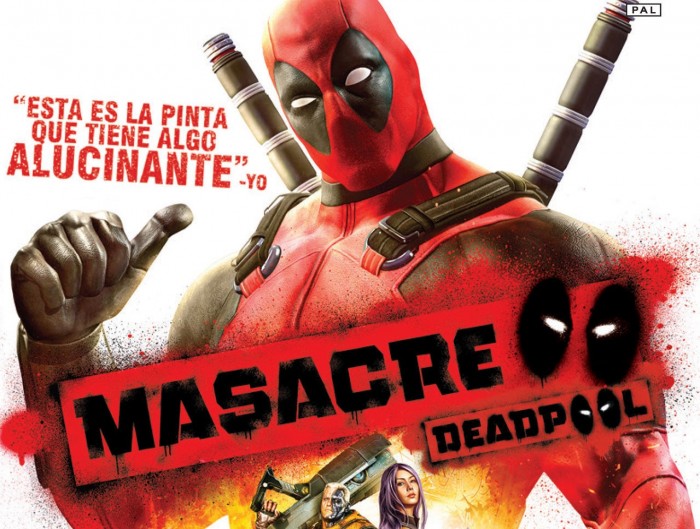 Por 55 euros en consolas en formato físico y 40 euros en PC a través únicamente de Steam, el personaje Deadpool, creado en 1991 para la colección New Mutants se nos asemeja a SpiderMan, aunque con la fortuna de tener como armas dos katanas en su espalda. Nuestro personaje se valdrá de todo tipo de artimañas para hacer lo que quiera. Destrozar edificios, insultar a la población, habla con el jugador y con los desarrolladores para darles su impresión sobre el juego, e incluso se atreve a defecar delante nuestro. Un personaje y un juego como nunca hemos visto.
Ride to Hell: Retribution (PC, Xbox 360, PS3)
Ride to Hell: Retribution llega como un juego de acción y aventura que nos trae la venerada Deep Silver. El juego está basado en la década de los sesenta y se nos mostrará la cultura de los moteros en pleno oeste americano (como podemos ver en la serie de televisión Sons of Anarchy). Eutechnyx han sido los encargados de desarrollar esta joya 'sobre ruedas' que nos llegará el 28 de junio a consolas y PC por 47 y 37 euros respectivamente. Y de milagro, ya que fue programado para finales de 2009 pero no ha sido hasta febrero de este año hasta cuando se ha clasificado para mayores de 18 años en Australia cuando hemos sabido de su lanzamiento inminente.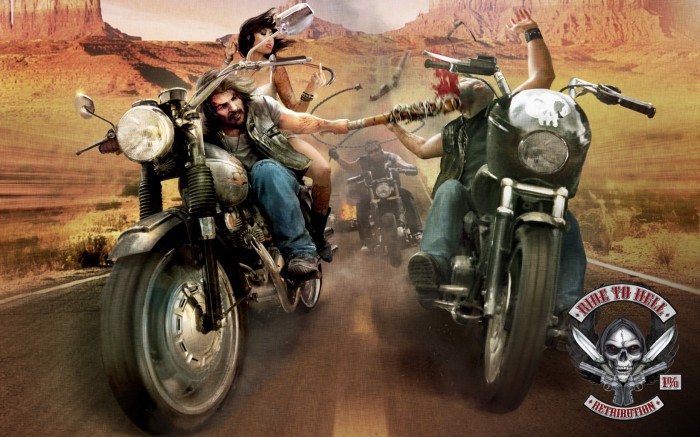 El juego está enclavado en los años sesenta, en un tiempo en el que las premisas para pertenecer a un grupo de moteros eran el sexo, las drogas y el Rock 'n Roll. El movimiento motero, música roquera y la cultura hippie se añaden a esta fascinante atmósfera con jugadores cuyo objetivo será convertirse en auténticos moteros de la costa oeste de USA, bebedores empedernidos, buscar broncas en los bares y otra clase de diversiones de ese tipo.
Galería de imágenes
    <style type='text/css'>
        #gallery-2 {
            margin: auto;
        }
        #gallery-2 .gallery-item {
            float: left;
            margin-top: 10px;
            text-align: center;
            width: 16%;
        }
        #gallery-2 img {
            border: 2px solid #cfcfcf;
        }
        #gallery-2 .gallery-caption {
            margin-left: 0;
        }
        /* see gallery_shortcode() in wp-includes/media.php */
    </style>
    <div data-carousel-extra='{"blog_id":27,"permalink":"https:\/\/xombitgames.com\/2013\/06\/lanzamientos-junio-2013-5","likes_blog_id":40960699}' id='gallery-2' class='gallery galleryid-38434 gallery-columns-6 gallery-size-large'><dl class='gallery-item'>
        <dt class='gallery-icon landscape'>
            <img width="700" height="393" src="https://xombitgames.com/files/2013/06/Ride-to-Hell-Retribution-1-700x393.jpg" class="attachment-large size-large" alt="Gameplay 1" srcset="https://xombitgames.com/files/2013/06/Ride-to-Hell-Retribution-1-700x393.jpg 700w, https://xombitgames.com/files/2013/06/Ride-to-Hell-Retribution-1-400x225.jpg 400w, https://xombitgames.com/files/2013/06/Ride-to-Hell-Retribution-1-220x123.jpg 220w" sizes="(max-width: 700px) 100vw, 700px" data-attachment-id="38472" data-orig-file="https://xombitgames.com/files/2013/06/Ride-to-Hell-Retribution-1.jpg" data-orig-size="1920,1080" data-comments-opened="1" data-image-meta="{&quot;aperture&quot;:&quot;0&quot;,&quot;credit&quot;:&quot;&quot;,&quot;camera&quot;:&quot;&quot;,&quot;caption&quot;:&quot;&quot;,&quot;created_timestamp&quot;:&quot;0&quot;,&quot;copyright&quot;:&quot;&quot;,&quot;focal_length&quot;:&quot;0&quot;,&quot;iso&quot;:&quot;0&quot;,&quot;shutter_speed&quot;:&quot;0&quot;,&quot;title&quot;:&quot;&quot;}" data-image-title="Ride to Hell Retribution (1)" data-image-description="" data-medium-file="https://xombitgames.com/files/2013/06/Ride-to-Hell-Retribution-1-400x225.jpg" data-large-file="https://xombitgames.com/files/2013/06/Ride-to-Hell-Retribution-1-700x393.jpg" />
        </dt></dl><dl class='gallery-item'>
        <dt class='gallery-icon landscape'>
            <img width="700" height="393" src="https://xombitgames.com/files/2013/06/Ride-to-Hell-Retribution-2-700x393.jpg" class="attachment-large size-large" alt="Gameplay 2" srcset="https://xombitgames.com/files/2013/06/Ride-to-Hell-Retribution-2-700x393.jpg 700w, https://xombitgames.com/files/2013/06/Ride-to-Hell-Retribution-2-400x225.jpg 400w, https://xombitgames.com/files/2013/06/Ride-to-Hell-Retribution-2-220x123.jpg 220w" sizes="(max-width: 700px) 100vw, 700px" data-attachment-id="38473" data-orig-file="https://xombitgames.com/files/2013/06/Ride-to-Hell-Retribution-2.jpg" data-orig-size="1920,1080" data-comments-opened="1" data-image-meta="{&quot;aperture&quot;:&quot;0&quot;,&quot;credit&quot;:&quot;&quot;,&quot;camera&quot;:&quot;&quot;,&quot;caption&quot;:&quot;&quot;,&quot;created_timestamp&quot;:&quot;0&quot;,&quot;copyright&quot;:&quot;&quot;,&quot;focal_length&quot;:&quot;0&quot;,&quot;iso&quot;:&quot;0&quot;,&quot;shutter_speed&quot;:&quot;0&quot;,&quot;title&quot;:&quot;&quot;}" data-image-title="Ride to Hell Retribution (2)" data-image-description="" data-medium-file="https://xombitgames.com/files/2013/06/Ride-to-Hell-Retribution-2-400x225.jpg" data-large-file="https://xombitgames.com/files/2013/06/Ride-to-Hell-Retribution-2-700x393.jpg" />
        </dt></dl><dl class='gallery-item'>
        <dt class='gallery-icon landscape'>
            <img width="700" height="380" src="https://xombitgames.com/files/2013/06/Ride-to-Hell-Retribution-3-700x380.jpg" class="attachment-large size-large" alt="Gameplay 3" srcset="https://xombitgames.com/files/2013/06/Ride-to-Hell-Retribution-3-700x380.jpg 700w, https://xombitgames.com/files/2013/06/Ride-to-Hell-Retribution-3-400x217.jpg 400w, https://xombitgames.com/files/2013/06/Ride-to-Hell-Retribution-3-220x119.jpg 220w, https://xombitgames.com/files/2013/06/Ride-to-Hell-Retribution-3.jpg 1024w" sizes="(max-width: 700px) 100vw, 700px" data-attachment-id="38474" data-orig-file="https://xombitgames.com/files/2013/06/Ride-to-Hell-Retribution-3.jpg" data-orig-size="1024,557" data-comments-opened="1" data-image-meta="{&quot;aperture&quot;:&quot;0&quot;,&quot;credit&quot;:&quot;&quot;,&quot;camera&quot;:&quot;&quot;,&quot;caption&quot;:&quot;&quot;,&quot;created_timestamp&quot;:&quot;0&quot;,&quot;copyright&quot;:&quot;&quot;,&quot;focal_length&quot;:&quot;0&quot;,&quot;iso&quot;:&quot;0&quot;,&quot;shutter_speed&quot;:&quot;0&quot;,&quot;title&quot;:&quot;&quot;}" data-image-title="Ride to Hell Retribution (3)" data-image-description="" data-medium-file="https://xombitgames.com/files/2013/06/Ride-to-Hell-Retribution-3-400x217.jpg" data-large-file="https://xombitgames.com/files/2013/06/Ride-to-Hell-Retribution-3-700x380.jpg" />
        </dt></dl><dl class='gallery-item'>
        <dt class='gallery-icon landscape'>
            <img width="700" height="376" src="https://xombitgames.com/files/2013/06/Ride-to-Hell-Retribution-4.jpg" class="attachment-large size-large" alt="Gameplay 4" srcset="https://xombitgames.com/files/2013/06/Ride-to-Hell-Retribution-4.jpg 700w, https://xombitgames.com/files/2013/06/Ride-to-Hell-Retribution-4-400x214.jpg 400w, https://xombitgames.com/files/2013/06/Ride-to-Hell-Retribution-4-220x118.jpg 220w" sizes="(max-width: 700px) 100vw, 700px" data-attachment-id="38475" data-orig-file="https://xombitgames.com/files/2013/06/Ride-to-Hell-Retribution-4.jpg" data-orig-size="700,376" data-comments-opened="1" data-image-meta="{&quot;aperture&quot;:&quot;0&quot;,&quot;credit&quot;:&quot;&quot;,&quot;camera&quot;:&quot;&quot;,&quot;caption&quot;:&quot;&quot;,&quot;created_timestamp&quot;:&quot;0&quot;,&quot;copyright&quot;:&quot;&quot;,&quot;focal_length&quot;:&quot;0&quot;,&quot;iso&quot;:&quot;0&quot;,&quot;shutter_speed&quot;:&quot;0&quot;,&quot;title&quot;:&quot;&quot;}" data-image-title="Ride to Hell Retribution (4)" data-image-description="" data-medium-file="https://xombitgames.com/files/2013/06/Ride-to-Hell-Retribution-4-400x214.jpg" data-large-file="https://xombitgames.com/files/2013/06/Ride-to-Hell-Retribution-4.jpg" />
        </dt></dl><dl class='gallery-item'>
        <dt class='gallery-icon landscape'>
            <img width="700" height="437" src="https://xombitgames.com/files/2013/06/Ride-to-Hell-Retribution-700x437.jpg" class="attachment-large size-large" alt="Portada del juego" srcset="https://xombitgames.com/files/2013/06/Ride-to-Hell-Retribution-700x437.jpg 700w, https://xombitgames.com/files/2013/06/Ride-to-Hell-Retribution-400x250.jpg 400w, https://xombitgames.com/files/2013/06/Ride-to-Hell-Retribution-220x137.jpg 220w" sizes="(max-width: 700px) 100vw, 700px" data-attachment-id="38476" data-orig-file="https://xombitgames.com/files/2013/06/Ride-to-Hell-Retribution.jpg" data-orig-size="1680,1050" data-comments-opened="1" data-image-meta="{&quot;aperture&quot;:&quot;0&quot;,&quot;credit&quot;:&quot;&quot;,&quot;camera&quot;:&quot;&quot;,&quot;caption&quot;:&quot;&quot;,&quot;created_timestamp&quot;:&quot;0&quot;,&quot;copyright&quot;:&quot;&quot;,&quot;focal_length&quot;:&quot;0&quot;,&quot;iso&quot;:&quot;0&quot;,&quot;shutter_speed&quot;:&quot;0&quot;,&quot;title&quot;:&quot;&quot;}" data-image-title="Ride to Hell Retribution" data-image-description="" data-medium-file="https://xombitgames.com/files/2013/06/Ride-to-Hell-Retribution-400x250.jpg" data-large-file="https://xombitgames.com/files/2013/06/Ride-to-Hell-Retribution-700x437.jpg" />
        </dt></dl><dl class='gallery-item'>
        <dt class='gallery-icon landscape'>
            <img width="700" height="421" src="https://xombitgames.com/files/2013/06/Mighty-Switch-Force-2-1.jpg" class="attachment-large size-large" alt="Gameplay 1" srcset="https://xombitgames.com/files/2013/06/Mighty-Switch-Force-2-1.jpg 700w, https://xombitgames.com/files/2013/06/Mighty-Switch-Force-2-1-400x240.jpg 400w, https://xombitgames.com/files/2013/06/Mighty-Switch-Force-2-1-220x132.jpg 220w" sizes="(max-width: 700px) 100vw, 700px" data-attachment-id="38477" data-orig-file="https://xombitgames.com/files/2013/06/Mighty-Switch-Force-2-1.jpg" data-orig-size="700,421" data-comments-opened="1" data-image-meta="{&quot;aperture&quot;:&quot;0&quot;,&quot;credit&quot;:&quot;&quot;,&quot;camera&quot;:&quot;&quot;,&quot;caption&quot;:&quot;&quot;,&quot;created_timestamp&quot;:&quot;0&quot;,&quot;copyright&quot;:&quot;&quot;,&quot;focal_length&quot;:&quot;0&quot;,&quot;iso&quot;:&quot;0&quot;,&quot;shutter_speed&quot;:&quot;0&quot;,&quot;title&quot;:&quot;&quot;}" data-image-title="Mighty Switch Force 2 (1)" data-image-description="" data-medium-file="https://xombitgames.com/files/2013/06/Mighty-Switch-Force-2-1-400x240.jpg" data-large-file="https://xombitgames.com/files/2013/06/Mighty-Switch-Force-2-1.jpg" />
        </dt></dl><br style="clear: both" /><dl class='gallery-item'>
        <dt class='gallery-icon landscape'>
            <img width="700" height="393" src="https://xombitgames.com/files/2013/06/Mighty-Switch-Force-2-2-700x393.jpg" class="attachment-large size-large" alt="Gameplay 2" srcset="https://xombitgames.com/files/2013/06/Mighty-Switch-Force-2-2-700x393.jpg 700w, https://xombitgames.com/files/2013/06/Mighty-Switch-Force-2-2-400x224.jpg 400w, https://xombitgames.com/files/2013/06/Mighty-Switch-Force-2-2-220x123.jpg 220w, https://xombitgames.com/files/2013/06/Mighty-Switch-Force-2-2.jpg 930w" sizes="(max-width: 700px) 100vw, 700px" data-attachment-id="38478" data-orig-file="https://xombitgames.com/files/2013/06/Mighty-Switch-Force-2-2.jpg" data-orig-size="930,523" data-comments-opened="1" data-image-meta="{&quot;aperture&quot;:&quot;0&quot;,&quot;credit&quot;:&quot;&quot;,&quot;camera&quot;:&quot;&quot;,&quot;caption&quot;:&quot;&quot;,&quot;created_timestamp&quot;:&quot;0&quot;,&quot;copyright&quot;:&quot;&quot;,&quot;focal_length&quot;:&quot;0&quot;,&quot;iso&quot;:&quot;0&quot;,&quot;shutter_speed&quot;:&quot;0&quot;,&quot;title&quot;:&quot;&quot;}" data-image-title="Mighty Switch Force 2 (2)" data-image-description="" data-medium-file="https://xombitgames.com/files/2013/06/Mighty-Switch-Force-2-2-400x224.jpg" data-large-file="https://xombitgames.com/files/2013/06/Mighty-Switch-Force-2-2-700x393.jpg" />
        </dt></dl><dl class='gallery-item'>
        <dt class='gallery-icon landscape'>
            <img width="700" height="393" src="https://xombitgames.com/files/2013/06/Mighty-Switch-Force-2-3-700x393.jpg" class="attachment-large size-large" alt="Gameplay 3" srcset="https://xombitgames.com/files/2013/06/Mighty-Switch-Force-2-3-700x393.jpg 700w, https://xombitgames.com/files/2013/06/Mighty-Switch-Force-2-3-400x224.jpg 400w, https://xombitgames.com/files/2013/06/Mighty-Switch-Force-2-3-220x123.jpg 220w, https://xombitgames.com/files/2013/06/Mighty-Switch-Force-2-3.jpg 930w" sizes="(max-width: 700px) 100vw, 700px" data-attachment-id="38479" data-orig-file="https://xombitgames.com/files/2013/06/Mighty-Switch-Force-2-3.jpg" data-orig-size="930,523" data-comments-opened="1" data-image-meta="{&quot;aperture&quot;:&quot;0&quot;,&quot;credit&quot;:&quot;&quot;,&quot;camera&quot;:&quot;&quot;,&quot;caption&quot;:&quot;&quot;,&quot;created_timestamp&quot;:&quot;0&quot;,&quot;copyright&quot;:&quot;&quot;,&quot;focal_length&quot;:&quot;0&quot;,&quot;iso&quot;:&quot;0&quot;,&quot;shutter_speed&quot;:&quot;0&quot;,&quot;title&quot;:&quot;&quot;}" data-image-title="Mighty Switch Force 2 (3)" data-image-description="" data-medium-file="https://xombitgames.com/files/2013/06/Mighty-Switch-Force-2-3-400x224.jpg" data-large-file="https://xombitgames.com/files/2013/06/Mighty-Switch-Force-2-3-700x393.jpg" />
        </dt></dl><dl class='gallery-item'>
        <dt class='gallery-icon landscape'>
            <img width="700" height="371" src="https://xombitgames.com/files/2013/06/Mighty-Switch-Force-2-700x371.jpg" class="attachment-large size-large" alt="Portada del juego" srcset="https://xombitgames.com/files/2013/06/Mighty-Switch-Force-2-700x371.jpg 700w, https://xombitgames.com/files/2013/06/Mighty-Switch-Force-2-400x212.jpg 400w, https://xombitgames.com/files/2013/06/Mighty-Switch-Force-2-220x116.jpg 220w, https://xombitgames.com/files/2013/06/Mighty-Switch-Force-2.jpg 1024w" sizes="(max-width: 700px) 100vw, 700px" data-attachment-id="38480" data-orig-file="https://xombitgames.com/files/2013/06/Mighty-Switch-Force-2.jpg" data-orig-size="1024,544" data-comments-opened="1" data-image-meta="{&quot;aperture&quot;:&quot;0&quot;,&quot;credit&quot;:&quot;&quot;,&quot;camera&quot;:&quot;&quot;,&quot;caption&quot;:&quot;&quot;,&quot;created_timestamp&quot;:&quot;0&quot;,&quot;copyright&quot;:&quot;&quot;,&quot;focal_length&quot;:&quot;0&quot;,&quot;iso&quot;:&quot;0&quot;,&quot;shutter_speed&quot;:&quot;0&quot;,&quot;title&quot;:&quot;&quot;}" data-image-title="Mighty Switch Force 2" data-image-description="" data-medium-file="https://xombitgames.com/files/2013/06/Mighty-Switch-Force-2-400x212.jpg" data-large-file="https://xombitgames.com/files/2013/06/Mighty-Switch-Force-2-700x371.jpg" />
        </dt></dl><dl class='gallery-item'>
        <dt class='gallery-icon landscape'>
            <img width="700" height="347" src="https://xombitgames.com/files/2013/06/Masacre-1-700x347.jpg" class="attachment-large size-large" alt="Gameplay 1" srcset="https://xombitgames.com/files/2013/06/Masacre-1-700x347.jpg 700w, https://xombitgames.com/files/2013/06/Masacre-1-400x198.jpg 400w, https://xombitgames.com/files/2013/06/Masacre-1-220x109.jpg 220w, https://xombitgames.com/files/2013/06/Masacre-1.jpg 1280w" sizes="(max-width: 700px) 100vw, 700px" data-attachment-id="38481" data-orig-file="https://xombitgames.com/files/2013/06/Masacre-1.jpg" data-orig-size="1280,635" data-comments-opened="1" data-image-meta="{&quot;aperture&quot;:&quot;0&quot;,&quot;credit&quot;:&quot;&quot;,&quot;camera&quot;:&quot;&quot;,&quot;caption&quot;:&quot;&quot;,&quot;created_timestamp&quot;:&quot;0&quot;,&quot;copyright&quot;:&quot;&quot;,&quot;focal_length&quot;:&quot;0&quot;,&quot;iso&quot;:&quot;0&quot;,&quot;shutter_speed&quot;:&quot;0&quot;,&quot;title&quot;:&quot;&quot;}" data-image-title="Masacre (1)" data-image-description="" data-medium-file="https://xombitgames.com/files/2013/06/Masacre-1-400x198.jpg" data-large-file="https://xombitgames.com/files/2013/06/Masacre-1-700x347.jpg" />
        </dt></dl><dl class='gallery-item'>
        <dt class='gallery-icon landscape'>
            <img width="700" height="378" src="https://xombitgames.com/files/2013/06/Masacre-2-700x378.jpg" class="attachment-large size-large" alt="Gameplay 2" srcset="https://xombitgames.com/files/2013/06/Masacre-2-700x378.jpg 700w, https://xombitgames.com/files/2013/06/Masacre-2-400x216.jpg 400w, https://xombitgames.com/files/2013/06/Masacre-2-220x118.jpg 220w, https://xombitgames.com/files/2013/06/Masacre-2.jpg 1500w" sizes="(max-width: 700px) 100vw, 700px" data-attachment-id="38482" data-orig-file="https://xombitgames.com/files/2013/06/Masacre-2.jpg" data-orig-size="1500,810" data-comments-opened="1" data-image-meta="{&quot;aperture&quot;:&quot;0&quot;,&quot;credit&quot;:&quot;&quot;,&quot;camera&quot;:&quot;&quot;,&quot;caption&quot;:&quot;&quot;,&quot;created_timestamp&quot;:&quot;0&quot;,&quot;copyright&quot;:&quot;&quot;,&quot;focal_length&quot;:&quot;0&quot;,&quot;iso&quot;:&quot;0&quot;,&quot;shutter_speed&quot;:&quot;0&quot;,&quot;title&quot;:&quot;&quot;}" data-image-title="Masacre (2)" data-image-description="" data-medium-file="https://xombitgames.com/files/2013/06/Masacre-2-400x216.jpg" data-large-file="https://xombitgames.com/files/2013/06/Masacre-2-700x378.jpg" />
        </dt></dl><dl class='gallery-item'>
        <dt class='gallery-icon landscape'>
            <img width="700" height="393" src="https://xombitgames.com/files/2013/06/Masacre-3-700x393.jpg" class="attachment-large size-large" alt="Gameplay 3" srcset="https://xombitgames.com/files/2013/06/Masacre-3-700x393.jpg 700w, https://xombitgames.com/files/2013/06/Masacre-3-400x224.jpg 400w, https://xombitgames.com/files/2013/06/Masacre-3-220x123.jpg 220w, https://xombitgames.com/files/2013/06/Masacre-3.jpg 1000w" sizes="(max-width: 700px) 100vw, 700px" data-attachment-id="38483" data-orig-file="https://xombitgames.com/files/2013/06/Masacre-3.jpg" data-orig-size="1000,562" data-comments-opened="1" data-image-meta="{&quot;aperture&quot;:&quot;0&quot;,&quot;credit&quot;:&quot;&quot;,&quot;camera&quot;:&quot;&quot;,&quot;caption&quot;:&quot;&quot;,&quot;created_timestamp&quot;:&quot;0&quot;,&quot;copyright&quot;:&quot;&quot;,&quot;focal_length&quot;:&quot;0&quot;,&quot;iso&quot;:&quot;0&quot;,&quot;shutter_speed&quot;:&quot;0&quot;,&quot;title&quot;:&quot;&quot;}" data-image-title="Masacre (3)" data-image-description="" data-medium-file="https://xombitgames.com/files/2013/06/Masacre-3-400x224.jpg" data-large-file="https://xombitgames.com/files/2013/06/Masacre-3-700x393.jpg" />
        </dt></dl><br style="clear: both" /><dl class='gallery-item'>
        <dt class='gallery-icon landscape'>
            <img width="700" height="441" src="https://xombitgames.com/files/2013/06/Masacre-4-700x441.jpg" class="attachment-large size-large" alt="Gameplay 4" srcset="https://xombitgames.com/files/2013/06/Masacre-4-700x441.jpg 700w, https://xombitgames.com/files/2013/06/Masacre-4-400x252.jpg 400w, https://xombitgames.com/files/2013/06/Masacre-4-220x138.jpg 220w, https://xombitgames.com/files/2013/06/Masacre-4.jpg 1065w" sizes="(max-width: 700px) 100vw, 700px" data-attachment-id="38484" data-orig-file="https://xombitgames.com/files/2013/06/Masacre-4.jpg" data-orig-size="1065,672" data-comments-opened="1" data-image-meta="{&quot;aperture&quot;:&quot;0&quot;,&quot;credit&quot;:&quot;&quot;,&quot;camera&quot;:&quot;&quot;,&quot;caption&quot;:&quot;&quot;,&quot;created_timestamp&quot;:&quot;0&quot;,&quot;copyright&quot;:&quot;&quot;,&quot;focal_length&quot;:&quot;0&quot;,&quot;iso&quot;:&quot;0&quot;,&quot;shutter_speed&quot;:&quot;0&quot;,&quot;title&quot;:&quot;&quot;}" data-image-title="Masacre (4)" data-image-description="" data-medium-file="https://xombitgames.com/files/2013/06/Masacre-4-400x252.jpg" data-large-file="https://xombitgames.com/files/2013/06/Masacre-4-700x441.jpg" />
        </dt></dl><dl class='gallery-item'>
        <dt class='gallery-icon landscape'>
            <img width="700" height="529" src="https://xombitgames.com/files/2013/06/Masacre-700x529.jpg" class="attachment-large size-large" alt="Portada del juego" srcset="https://xombitgames.com/files/2013/06/Masacre-700x529.jpg 700w, https://xombitgames.com/files/2013/06/Masacre-400x302.jpg 400w, https://xombitgames.com/files/2013/06/Masacre-217x165.jpg 217w, https://xombitgames.com/files/2013/06/Masacre.jpg 1280w" sizes="(max-width: 700px) 100vw, 700px" data-attachment-id="38485" data-orig-file="https://xombitgames.com/files/2013/06/Masacre.jpg" data-orig-size="1280,969" data-comments-opened="1" data-image-meta="{&quot;aperture&quot;:&quot;0&quot;,&quot;credit&quot;:&quot;&quot;,&quot;camera&quot;:&quot;&quot;,&quot;caption&quot;:&quot;&quot;,&quot;created_timestamp&quot;:&quot;0&quot;,&quot;copyright&quot;:&quot;&quot;,&quot;focal_length&quot;:&quot;0&quot;,&quot;iso&quot;:&quot;0&quot;,&quot;shutter_speed&quot;:&quot;0&quot;,&quot;title&quot;:&quot;&quot;}" data-image-title="Masacre" data-image-description="" data-medium-file="https://xombitgames.com/files/2013/06/Masacre-400x302.jpg" data-large-file="https://xombitgames.com/files/2013/06/Masacre-700x529.jpg" />
        </dt></dl><dl class='gallery-item'>
        <dt class='gallery-icon landscape'>
            <img width="700" height="393" src="https://xombitgames.com/files/2013/06/Leisure-Suit-Larry-1-700x393.jpg" class="attachment-large size-large" alt="Gameplay 1" srcset="https://xombitgames.com/files/2013/06/Leisure-Suit-Larry-1-700x393.jpg 700w, https://xombitgames.com/files/2013/06/Leisure-Suit-Larry-1-400x224.jpg 400w, https://xombitgames.com/files/2013/06/Leisure-Suit-Larry-1-220x123.jpg 220w" sizes="(max-width: 700px) 100vw, 700px" data-attachment-id="38486" data-orig-file="https://xombitgames.com/files/2013/06/Leisure-Suit-Larry-1.jpg" data-orig-size="2731,1536" data-comments-opened="1" data-image-meta="{&quot;aperture&quot;:&quot;0&quot;,&quot;credit&quot;:&quot;&quot;,&quot;camera&quot;:&quot;&quot;,&quot;caption&quot;:&quot;&quot;,&quot;created_timestamp&quot;:&quot;0&quot;,&quot;copyright&quot;:&quot;&quot;,&quot;focal_length&quot;:&quot;0&quot;,&quot;iso&quot;:&quot;0&quot;,&quot;shutter_speed&quot;:&quot;0&quot;,&quot;title&quot;:&quot;&quot;}" data-image-title="Leisure Suit Larry (1)" data-image-description="" data-medium-file="https://xombitgames.com/files/2013/06/Leisure-Suit-Larry-1-400x224.jpg" data-large-file="https://xombitgames.com/files/2013/06/Leisure-Suit-Larry-1-700x393.jpg" />
        </dt></dl><dl class='gallery-item'>
        <dt class='gallery-icon landscape'>
            <img width="700" height="396" src="https://xombitgames.com/files/2013/06/Leisure-Suit-Larry-2-700x396.jpg" class="attachment-large size-large" alt="Gameplay 2" srcset="https://xombitgames.com/files/2013/06/Leisure-Suit-Larry-2-700x396.jpg 700w, https://xombitgames.com/files/2013/06/Leisure-Suit-Larry-2-400x226.jpg 400w, https://xombitgames.com/files/2013/06/Leisure-Suit-Larry-2-220x124.jpg 220w, https://xombitgames.com/files/2013/06/Leisure-Suit-Larry-2.jpg 910w" sizes="(max-width: 700px) 100vw, 700px" data-attachment-id="38487" data-orig-file="https://xombitgames.com/files/2013/06/Leisure-Suit-Larry-2.jpg" data-orig-size="910,515" data-comments-opened="1" data-image-meta="{&quot;aperture&quot;:&quot;0&quot;,&quot;credit&quot;:&quot;&quot;,&quot;camera&quot;:&quot;&quot;,&quot;caption&quot;:&quot;&quot;,&quot;created_timestamp&quot;:&quot;0&quot;,&quot;copyright&quot;:&quot;&quot;,&quot;focal_length&quot;:&quot;0&quot;,&quot;iso&quot;:&quot;0&quot;,&quot;shutter_speed&quot;:&quot;0&quot;,&quot;title&quot;:&quot;&quot;}" data-image-title="Leisure Suit Larry (2)" data-image-description="" data-medium-file="https://xombitgames.com/files/2013/06/Leisure-Suit-Larry-2-400x226.jpg" data-large-file="https://xombitgames.com/files/2013/06/Leisure-Suit-Larry-2-700x396.jpg" />
        </dt></dl><dl class='gallery-item'>
        <dt class='gallery-icon landscape'>
            <img width="700" height="437" src="https://xombitgames.com/files/2013/06/Leisure-Suit-Larry-3-700x437.jpg" class="attachment-large size-large" alt="Gameplay 3" srcset="https://xombitgames.com/files/2013/06/Leisure-Suit-Larry-3-700x437.jpg 700w, https://xombitgames.com/files/2013/06/Leisure-Suit-Larry-3-400x250.jpg 400w, https://xombitgames.com/files/2013/06/Leisure-Suit-Larry-3-220x137.jpg 220w" sizes="(max-width: 700px) 100vw, 700px" data-attachment-id="38488" data-orig-file="https://xombitgames.com/files/2013/06/Leisure-Suit-Larry-3.jpg" data-orig-size="1920,1200" data-comments-opened="1" data-image-meta="{&quot;aperture&quot;:&quot;0&quot;,&quot;credit&quot;:&quot;&quot;,&quot;camera&quot;:&quot;&quot;,&quot;caption&quot;:&quot;&quot;,&quot;created_timestamp&quot;:&quot;0&quot;,&quot;copyright&quot;:&quot;&quot;,&quot;focal_length&quot;:&quot;0&quot;,&quot;iso&quot;:&quot;0&quot;,&quot;shutter_speed&quot;:&quot;0&quot;,&quot;title&quot;:&quot;&quot;}" data-image-title="Leisure Suit Larry (3)" data-image-description="" data-medium-file="https://xombitgames.com/files/2013/06/Leisure-Suit-Larry-3-400x250.jpg" data-large-file="https://xombitgames.com/files/2013/06/Leisure-Suit-Larry-3-700x437.jpg" />
        </dt></dl><dl class='gallery-item'>
        <dt class='gallery-icon landscape'>
            <img width="700" height="525" src="https://xombitgames.com/files/2013/06/Leisure-Suit-Larry-4-700x525.jpg" class="attachment-large size-large" alt="Gameplay 4" srcset="https://xombitgames.com/files/2013/06/Leisure-Suit-Larry-4-700x525.jpg 700w, https://xombitgames.com/files/2013/06/Leisure-Suit-Larry-4-400x300.jpg 400w, https://xombitgames.com/files/2013/06/Leisure-Suit-Larry-4-640x480.jpg 640w, https://xombitgames.com/files/2013/06/Leisure-Suit-Larry-4-220x165.jpg 220w, https://xombitgames.com/files/2013/06/Leisure-Suit-Larry-4.jpg 1024w" sizes="(max-width: 700px) 100vw, 700px" data-attachment-id="38489" data-orig-file="https://xombitgames.com/files/2013/06/Leisure-Suit-Larry-4.jpg" data-orig-size="1024,768" data-comments-opened="1" data-image-meta="{&quot;aperture&quot;:&quot;0&quot;,&quot;credit&quot;:&quot;&quot;,&quot;camera&quot;:&quot;&quot;,&quot;caption&quot;:&quot;&quot;,&quot;created_timestamp&quot;:&quot;0&quot;,&quot;copyright&quot;:&quot;&quot;,&quot;focal_length&quot;:&quot;0&quot;,&quot;iso&quot;:&quot;0&quot;,&quot;shutter_speed&quot;:&quot;0&quot;,&quot;title&quot;:&quot;&quot;}" data-image-title="Leisure Suit Larry (4)" data-image-description="" data-medium-file="https://xombitgames.com/files/2013/06/Leisure-Suit-Larry-4-400x300.jpg" data-large-file="https://xombitgames.com/files/2013/06/Leisure-Suit-Larry-4-700x525.jpg" />
        </dt></dl><br style="clear: both" /><dl class='gallery-item'>
        <dt class='gallery-icon landscape'>
            <img width="700" height="393" src="https://xombitgames.com/files/2013/06/Leisure-Suit-Larry-700x393.jpg" class="attachment-large size-large" alt="Portada del juego" srcset="https://xombitgames.com/files/2013/06/Leisure-Suit-Larry-700x393.jpg 700w, https://xombitgames.com/files/2013/06/Leisure-Suit-Larry-400x225.jpg 400w, https://xombitgames.com/files/2013/06/Leisure-Suit-Larry-220x123.jpg 220w, https://xombitgames.com/files/2013/06/Leisure-Suit-Larry.jpg 1280w" sizes="(max-width: 700px) 100vw, 700px" data-attachment-id="38490" data-orig-file="https://xombitgames.com/files/2013/06/Leisure-Suit-Larry.jpg" data-orig-size="1280,720" data-comments-opened="1" data-image-meta="{&quot;aperture&quot;:&quot;0&quot;,&quot;credit&quot;:&quot;&quot;,&quot;camera&quot;:&quot;&quot;,&quot;caption&quot;:&quot;&quot;,&quot;created_timestamp&quot;:&quot;0&quot;,&quot;copyright&quot;:&quot;&quot;,&quot;focal_length&quot;:&quot;0&quot;,&quot;iso&quot;:&quot;0&quot;,&quot;shutter_speed&quot;:&quot;0&quot;,&quot;title&quot;:&quot;&quot;}" data-image-title="Leisure Suit Larry" data-image-description="" data-medium-file="https://xombitgames.com/files/2013/06/Leisure-Suit-Larry-400x225.jpg" data-large-file="https://xombitgames.com/files/2013/06/Leisure-Suit-Larry-700x393.jpg" />
        </dt></dl><dl class='gallery-item'>
        <dt class='gallery-icon landscape'>
            <img width="700" height="393" src="https://xombitgames.com/files/2013/06/CoH-2-1-700x393.jpg" class="attachment-large size-large" alt="Gameplay 1" srcset="https://xombitgames.com/files/2013/06/CoH-2-1-700x393.jpg 700w, https://xombitgames.com/files/2013/06/CoH-2-1-400x225.jpg 400w, https://xombitgames.com/files/2013/06/CoH-2-1-220x123.jpg 220w" sizes="(max-width: 700px) 100vw, 700px" data-attachment-id="38491" data-orig-file="https://xombitgames.com/files/2013/06/CoH-2-1.jpg" data-orig-size="1920,1080" data-comments-opened="1" data-image-meta="{&quot;aperture&quot;:&quot;0&quot;,&quot;credit&quot;:&quot;&quot;,&quot;camera&quot;:&quot;&quot;,&quot;caption&quot;:&quot;&quot;,&quot;created_timestamp&quot;:&quot;0&quot;,&quot;copyright&quot;:&quot;&quot;,&quot;focal_length&quot;:&quot;0&quot;,&quot;iso&quot;:&quot;0&quot;,&quot;shutter_speed&quot;:&quot;0&quot;,&quot;title&quot;:&quot;&quot;}" data-image-title="CoH 2 (1)" data-image-description="" data-medium-file="https://xombitgames.com/files/2013/06/CoH-2-1-400x225.jpg" data-large-file="https://xombitgames.com/files/2013/06/CoH-2-1-700x393.jpg" />
        </dt></dl><dl class='gallery-item'>
        <dt class='gallery-icon landscape'>
            <img width="700" height="437" src="https://xombitgames.com/files/2013/06/CoH-2-2-700x437.jpg" class="attachment-large size-large" alt="Gameplay 2" srcset="https://xombitgames.com/files/2013/06/CoH-2-2-700x437.jpg 700w, https://xombitgames.com/files/2013/06/CoH-2-2-400x250.jpg 400w, https://xombitgames.com/files/2013/06/CoH-2-2-220x137.jpg 220w" sizes="(max-width: 700px) 100vw, 700px" data-attachment-id="38492" data-orig-file="https://xombitgames.com/files/2013/06/CoH-2-2.jpg" data-orig-size="1920,1200" data-comments-opened="1" data-image-meta="{&quot;aperture&quot;:&quot;0&quot;,&quot;credit&quot;:&quot;&quot;,&quot;camera&quot;:&quot;&quot;,&quot;caption&quot;:&quot;&quot;,&quot;created_timestamp&quot;:&quot;0&quot;,&quot;copyright&quot;:&quot;&quot;,&quot;focal_length&quot;:&quot;0&quot;,&quot;iso&quot;:&quot;0&quot;,&quot;shutter_speed&quot;:&quot;0&quot;,&quot;title&quot;:&quot;&quot;}" data-image-title="CoH 2 (2)" data-image-description="" data-medium-file="https://xombitgames.com/files/2013/06/CoH-2-2-400x250.jpg" data-large-file="https://xombitgames.com/files/2013/06/CoH-2-2-700x437.jpg" />
        </dt></dl><dl class='gallery-item'>
        <dt class='gallery-icon landscape'>
            <img width="700" height="393" src="https://xombitgames.com/files/2013/06/CoH-2-3-700x393.jpg" class="attachment-large size-large" alt="Lanzamientos destacados, semana del 24 al 30 de junio" srcset="https://xombitgames.com/files/2013/06/CoH-2-3-700x393.jpg 700w, https://xombitgames.com/files/2013/06/CoH-2-3-400x225.jpg 400w, https://xombitgames.com/files/2013/06/CoH-2-3-220x123.jpg 220w" sizes="(max-width: 700px) 100vw, 700px" data-attachment-id="38493" data-orig-file="https://xombitgames.com/files/2013/06/CoH-2-3.jpg" data-orig-size="1920,1080" data-comments-opened="1" data-image-meta="{&quot;aperture&quot;:&quot;0&quot;,&quot;credit&quot;:&quot;&quot;,&quot;camera&quot;:&quot;&quot;,&quot;caption&quot;:&quot;&quot;,&quot;created_timestamp&quot;:&quot;0&quot;,&quot;copyright&quot;:&quot;&quot;,&quot;focal_length&quot;:&quot;0&quot;,&quot;iso&quot;:&quot;0&quot;,&quot;shutter_speed&quot;:&quot;0&quot;,&quot;title&quot;:&quot;&quot;}" data-image-title="CoH 2 (3)" data-image-description="" data-medium-file="https://xombitgames.com/files/2013/06/CoH-2-3-400x225.jpg" data-large-file="https://xombitgames.com/files/2013/06/CoH-2-3-700x393.jpg" />
        </dt></dl><dl class='gallery-item'>
        <dt class='gallery-icon landscape'>
            <img width="700" height="394" src="https://xombitgames.com/files/2013/06/CoH-2-4-700x394.jpg" class="attachment-large size-large" alt="Gameplay 4" srcset="https://xombitgames.com/files/2013/06/CoH-2-4-700x394.jpg 700w, https://xombitgames.com/files/2013/06/CoH-2-4-400x225.jpg 400w, https://xombitgames.com/files/2013/06/CoH-2-4-220x123.jpg 220w, https://xombitgames.com/files/2013/06/CoH-2-4.jpg 1400w" sizes="(max-width: 700px) 100vw, 700px" data-attachment-id="38494" data-orig-file="https://xombitgames.com/files/2013/06/CoH-2-4.jpg" data-orig-size="1400,788" data-comments-opened="1" data-image-meta="{&quot;aperture&quot;:&quot;0&quot;,&quot;credit&quot;:&quot;&quot;,&quot;camera&quot;:&quot;&quot;,&quot;caption&quot;:&quot;&quot;,&quot;created_timestamp&quot;:&quot;0&quot;,&quot;copyright&quot;:&quot;&quot;,&quot;focal_length&quot;:&quot;0&quot;,&quot;iso&quot;:&quot;0&quot;,&quot;shutter_speed&quot;:&quot;0&quot;,&quot;title&quot;:&quot;&quot;}" data-image-title="CoH 2 (4)" data-image-description="" data-medium-file="https://xombitgames.com/files/2013/06/CoH-2-4-400x225.jpg" data-large-file="https://xombitgames.com/files/2013/06/CoH-2-4-700x394.jpg" />
        </dt></dl><dl class='gallery-item'>
        <dt class='gallery-icon landscape'>
            <img width="700" height="303" src="https://xombitgames.com/files/2013/06/CoH-2-700x303.jpg" class="attachment-large size-large" alt="Portada del juego" srcset="https://xombitgames.com/files/2013/06/CoH-2-700x303.jpg 700w, https://xombitgames.com/files/2013/06/CoH-2-400x173.jpg 400w, https://xombitgames.com/files/2013/06/CoH-2-220x95.jpg 220w, https://xombitgames.com/files/2013/06/CoH-2.jpg 1440w" sizes="(max-width: 700px) 100vw, 700px" data-attachment-id="38495" data-orig-file="https://xombitgames.com/files/2013/06/CoH-2.jpg" data-orig-size="1440,624" data-comments-opened="1" data-image-meta="{&quot;aperture&quot;:&quot;0&quot;,&quot;credit&quot;:&quot;&quot;,&quot;camera&quot;:&quot;&quot;,&quot;caption&quot;:&quot;&quot;,&quot;created_timestamp&quot;:&quot;0&quot;,&quot;copyright&quot;:&quot;&quot;,&quot;focal_length&quot;:&quot;0&quot;,&quot;iso&quot;:&quot;0&quot;,&quot;shutter_speed&quot;:&quot;0&quot;,&quot;title&quot;:&quot;&quot;}" data-image-title="CoH 2" data-image-description="" data-medium-file="https://xombitgames.com/files/2013/06/CoH-2-400x173.jpg" data-large-file="https://xombitgames.com/files/2013/06/CoH-2-700x303.jpg" />
        </dt></dl><br style="clear: both" />
    </div>